Istanbul, the 15-million-metropolis where Recep Tayyip Erdogan started his political career as the city's mayor 20 years ago, is going to play a decisive role in Turkey's local elections on Sunday (30.03.2014). If Erdogan's Justice and Development Party (AKP) were to lose here, it would translate to a serious blow to the prime minister's power.
Mustafa Sarigul is prepared to deal that blow to Erdogan. The 57-year-old mayor of Istanbul's wealthy district of Sisli is on the main opposition Republican People's Party (CHP) ticket and faces Erdogan's fellow party member and ruling city mayor Kadi Topbas in elections. Polls suggest it's going to be a neck-and-neck contest. During the campaign, Sarigul has promised to introduce free Wi-Fi across the city and provide free public transport for students - a clear signal that he wants to win over Turkey's young generation. According to Erdogan, Sarigul is an "anarchist."
Heated battle of words
Such accusations are nothing new in Turkish politics. Politicians don't shy away from bashing their opponents in election campaigns, but the current campaign is extreme - even for Turkish standards. CHP leader Kemal Kilicdaroglu has called Erdogan the "chief thief" while Erdogan has accused his opponents of forming a "terror organization" to topple the government.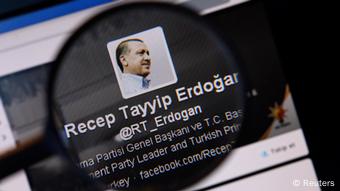 Erdogan blocked access to Twitter and YouTube
Recent corruption allegations have taken their toll on Erdogan. Every other day, new embarrassing recordings of phone conversations have been leaked online - taped conversations between Erdogan and other government officials on bribery or how to put pressure on the media.
Erdogan has called it a conspiracy orchestrated by the movement of Islamic cleric Fethullah Gulen, who is currently living in the United States. The Gulen movement used to support the AKP but is now at odds with the government.
Banning Twitter, sacking officials
Erdogan has blamed Gulen supporters for launching a major corruption probe and sacked several thousand police officials, judges and prosecutors believed to be linked to the Gulen movement. Last week Erdogan shut down popular micro-blogging site Twitter to prevent further revelations. Telecommunications authorities on Thursday also enacted "administrative measures" against the YouTube video site. Erdogan's supporters have said such steps are necessary to protect the state while his opponents argue Erdogan launched an attack on democracy and that his actions represent a sign of panic and an increasingly authoritative style of politics.
Fethi Acikel, a professor of political science at Ankara University, said Erdogan's harsh and polarizing demeanor was a carefully calculated strategy. After the protests in Gezi Park last summer, the prime minister tried to aim for a strong Turkish presidential system by applying "controlled pressure" on society, Acikel told DW. Instead of the current, rather weak presidential position, Erdogan was pushing for a powerful head of state, similar to the French or US system - with himself at the helm.
Local elections as referendum on Erdogan's AKP
But his plan didn't work out as he intended as more and more Turkish citizens turned away from him. Eight people died during the Gezi protests and polarization in society continued to increase. Corruption allegations fueled the anger even more, because they pointed to the party's alleged dark side. "That's why the local elections are a referendum so to speak on the AKP's nepotistic, corrupt and authoritarian politics," Acikel said.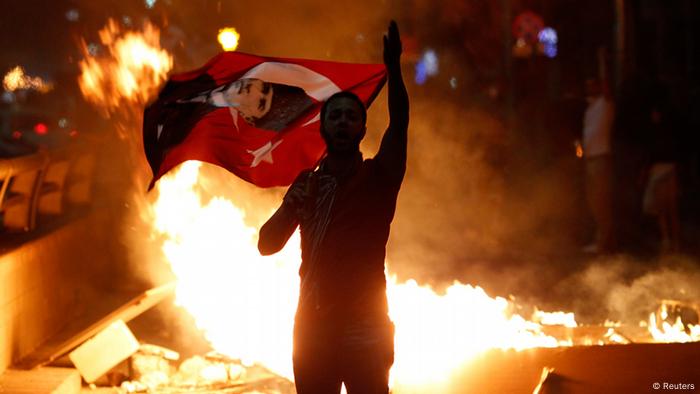 Tens of thousands of people took to the streets during the Gezi protests in the summer of 2013
No one expects tensions to recede after election day. According to Acikel, pressure will continue until presidential elections in August at least. It's unclear whether current President Abdullah Gul, who has continued to distance himself from Erdogan in the recent weeks, will run again or if Erdogan chooses to run himself.
Sunday's results will either pave the way or destroy Erdogan's ambitions to become president. Polls see the AKP winning 35 percent to 45 percent of the vote as the party still has conservative supporters rallying behind it. According to polls, AKP would remain the strongest political player in Turkey, albeit loosing votes compared to 2011 parliamentary elections when it garnered 50 percent of the votes.
'Silent opposition' forming
Observers have said there is growing concern within the AKP about where Erdogan is headed. Author and columnist Mustafa Akyol said a "silent opposition" within the ruling party had emerged but added that it doesn't dare to come out in public yet. A palace coup wouldn't be possible before Erdogan looses his personal popularity with the party's traditional voters.
Erdogan wants Turkey to have a strong president - and then go for the position
But even if the AKP were to win local elections with more than 40 percent, things aren't likely going to calm down anytime soon. Erdogan has already said he would push for harder measures against the Gulen movement after the elections were are over. Turkish media reports speculate about a crackdown on businesses and organizations with ties to the Gulen movement. TV station Kanalturk, which is affiliated with the Gulen movement, had its license revoked and can no longer broadcast nationally.
Split Islamic intelligentsia
Some observers have expressed hope to reanimate political reforms. Turkey was in the middle of a transition and Erdogan had to "stifle democracy and open society to stay in power," said Murat Somer, a political scientist with the Koc University in Istanbul.
The prime minister had tried to increase his power and to avoid being controlled by other institutions by appealing to nationalistic and Islamist values. "But now, the Islamic intelligentsia is also divided," Somer said, referring to the fight between Erdogan and the Gulen movement.
Somer said continuing down a decade-long path of reforms could be a way out. "What we need is to resolve the crisis by upholding the time-tested principles of division of powers and rule of law by making sure that the next Turkish government returns to the path of legal and political reforms."