The idea of a building a light-weight car body is hardly unique, but a team of researchers at the German Aerospace Center (DLR) in Stuttgart believes they're on to something new.
Their idea: a light-weight "sandwich" construction that uses aluminium to form the outer and inner shells, with a foam core made of high-performance plastics for added strength.
"The sandwich construction is relatively rare," said Michael Kriescher, a member of the DLR research team. "You'll see it used in race cars, mostly as a carbon-fiber construction, but not in serial production."
While most car bodies consist of between 200 and 300 metal parts, the construction conceived by the German team is relatively simple: it requires only about 50 parts, and these can be made with far fewer machines and forms and less complex assembly lines, according to Kriescher.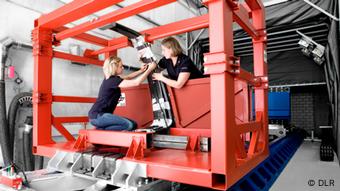 The prototype car body is expected to make it to the crash test stage by the end of the year
Cheaper, lighter, more efficient
"We believe investment costs will be much lower, due to the low number of parts and the relatively simple shape," he told DW. He added that manufacturers, particularly in developing markets, could produce parts at competitive prices, especially at low to medium lot sizes.
Weight accounts for around two-thirds of a car's fuel consumption, according to Kriescher. And weight is exactly what the German engineering team had in mind when they developed a car body that weighs only 80 kilograms.
One of the concepts proposed by the team envisions a two-seat car weighing a total of 500 kilos that can be easily converted into a five-seat vehicle for consumers in India.
The DLR research team has completed a calculation model and CAD (computer-aided design) construction, according to Kriescher. By the end of this year, it aims to build a prototype complete with a motor and also conduct a crash test at the center's own crash testing facility.
Author: John Blau
Editor: Ben Knight