The estimated three million transgender people living in Indonesia are often rejected by their families, who are ashamed of them. Many of these people survive as prostitutes, but when they grow old, they have nowhere to go and end up begging on the streets.
But now, what might be the world's first ever elderly home for transgender people is being built on the outskirts of the Indonesian capital, Jakarta.
It's a very small pink house at the end of a dusty alleyway. There are chickens running around and children playing. It is here that Indonesia's first senior citizen's home for transsexuals and transgender people, or waria, as they are known in Indonesia, is being built.
Inside, 51-year-old Yulianus Rettoblaut watches in the mirror as a friend goes through the daily ritual of applying her heavy make up - thick white foundation, fake eyelashes, bright red lipstick and a long black wig that is tied in a bun at the back.
Not alone, but often isolated
"I lived in a village in an isolated area on the island of Papua. There was no one there who was transgender, or gay," she explains. "I started feeling attracted to men when I was around 11 years old. I thought: what is this feeling; is it an illness? It was not until I was 18, when a friend at university who was also transgender, took me to Jakarta to the prostitution beat for waria that I realized there was this whole other world that existed. I was so confused. There were so many people like me dressed up so beautifully." There are some three million transgender people in Indonesia
Suddenly, Yulianus realized she was not alone:
"I felt like a weight had been lifted from me - because I saw that if we wear beautiful clothes and make-up you could easily attract guys and be paid money for it! So you get satisfied, get to be beautiful and you earn money," she says.
Jobs aren't easy to come by in Indonesia if you are living as a woman in a man's body. Yuli, as she calls herself, ended up doing what many other warias do - working as a prostitute on the streets; a world she says was harsh and violent.
She says she was regularly abused and customers often refused to pay.
Sometimes she and her friends even had to run away from the police or Islamic vigilante groups trying to attack them.
It was during this time that she heard her parents had died.
"They had heard that I was now wearing women's clothes. I think I disappointed them so much that it killed them. I didn't go home for the funeral because my family hated me," she recounts. "My brother is a policeman; he was very angry and he wanted to shoot me because he said I had shamed my family."
Her brother, she confessed, put a pistol to her head and wanted to shoot. The family shaved her head, but she managed to run away, back to Jakarta. She said she really hated herself at the time and decided to spend the rest of her life showing the world, and particularly her family, that, even though she was transgender, she could do good and they would be proud of her.
Making change happen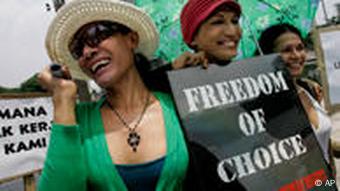 Indonesian transvestites demand more rights from the government
She went on to become the first waria in Indonesia to get a law degree at a leading Islamic university and is now working on her masters. She is also a high-profile leader of Indonesia's large transgender community, who refer to her fondly as "Mummy Yuli."
As a "mother" to the community, she decided she needed to do something to support greying waria rejected by their family and society.
"As waria get older, people become even more scared of them and we can't sell ourselves in the same way young waria can. From a government perspective, they are confused about whether to put us in male or female old people's home and their families certainly don't want to look after them. So I see many of them struggling, begging on the streets and living under bridges."
Yuli says that she already has a waiting list of 800 waria who want to move into her old folks' home. At the moment the house is home to three elderly waria. Photos of them as young beautiful models line the walls and cabinets are full of their beauty pageant trophies.
Uphill struggle
Yoti Maya is nearly 70 years old and has lost all her teeth. She was disowned by her family when she was a teenager.
"My mother opened my door and found me in bed cuddling with a man and told my father. He called all my family together and said 'I don't want this in my family so you must leave the house now. Whether you live or die, I don't care. You just have to get out of the house.' I was just a teenager and they threw me out of the house at night with nothing but the clothes I was wearing. I was crying. I was young and I didn't have a job. But I accepted my fate," she recalls.
Yoti eventually found work as a chef on ships and has traveled across Asia. She is now the cook for the nursing home.
The home also holds training sessions for elderly transgender people so they can get the skills they need to live independently.
Mbok Sri, who is 73 years old, teaches sewing and warns the younger waria that they can't live off their looks forever.
"I tell all young waria they need to get a formal education. No one else is going to be looking after us, so we need to create our own profession and provide for ourselves," Sri explains.
And recently Yuli's brother, who had once threatened to shoot her, visited the old people's home.
He said that it didn't matter now that Yuli was a waria. He told her that she had become a role model for her community and that it was good that she was providing a home for those in need. "Our family is very proud of you," she recalls her brother saying after all these years. "As a brother, I am very proud of you."