The court in Dhaka announced Wednesday the trial for the eight suspects over the hacking death of outspoken blogger Ahmed Rajib Haider is slated to open April 21.
"Seven of them including the cleric were present in the court when the judge read out the charges against them," prosecutor Saiful Islam told news agency AFP, adding that the students were inspired by the Friday sermons of the cleric and carried out the attack on Haider because he was an athiest and defamed Islam.
But the eighth suspect, 30-year-old Rezwanul Azad Rana, has evaded arrest and police announced a reward of $6,400 (about 6000 euros) for information leading to his capture.
Haider was killed outside his home in Dhaka in 2013. The blogger had called for the execution of Islamist figures convicted of war crimes during Bangladesh's violent secession from Pakistan in 1971. The body of Haider - known by his online persona Thaba Baba - was found with wounds on his head which police speculated was an attempt to behead him.
His murder was similar to that of American atheist blogger Avijit Roy whose killing earlier this year sparked international outrage.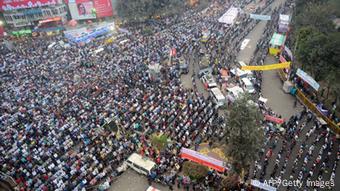 Hundreds of mourners gathered to perform funeral rites for Ahmed Rajib Haider in February 2013
Prosecutors said the seven students studied at North South University, an elite private school in Dhaka. The cleric is accused of being a figurehead for Ansarullah Bangla Team, a radical Islamist group that police suspect was also behind Roy's killing.
Earlier this month police arrested radical Islamist figure Shafiur Rahman Farabi at a bus station in connection with last month's killing killing of atheist blogger Avijit Roy. Police had also arrested Farabi for making threats against an imam who had delivered death rites at Haider's funeral. He was later released on bail.
Police say that Farabi, a physics student at a top university, has denied a role in the killings but says he approves of the deaths.
Experts say killings of outspoken bloggers and the role of religion in daily life remain a volatile flashpoint in Bangladesh society.
jar/se (AFP, AP, Reuters)