Ecuador's right-wing politician Guillermo Lasso was leading his left-wing rival by little more than four points, according to the polling agency Cedatos on Sunday. The latest Cedatos poll of 2,862 people conducted from February 23-24 showed Lasso winning 52.1 percent of votes, against Moreno's 47.9 percent in the run-off. The poll's margin of error is 3.4 percent.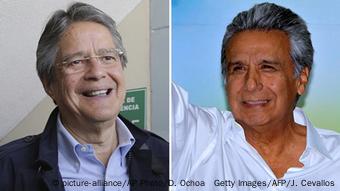 Guillermo Lasso (left) and Lenin Moreno (right)
The ruling party's candidate, Lenin Moreno, blew past Lasso and the rest of the field during the first round of voting earlier this month. But his comfortable margin of victory fell short of the super majority needed to avoid a run-off election scheduled for April 2.
Now, with right-wing parties consolidating behind one candidate - Lasso - the conservatives have a chance to win back power after 10 years of left-of-center rule by the popular Rafael Correa, who is constitutionally forbidden from seeking a third term.
Lasso is standing on a platform of tax and spending cuts.
To avoid a run-off election, a candidate in the small, oil-rich South American country needs to secure at least 40 percent of the vote and hold at least a 10-point lead over his nearest rival. Moreno fell just short of the mark during the first round of voting.
Julian Assange watching
WikiLeaks founder Julian Assange is watching the election closely. He has been sheltering in the Ecuadorian embassy in London since 2012 to avoid going to Sweden to face rape charges.
Lasso has said he would move to end Assange's asylum.
bik/jm (Reuters)