Funded by Germany's Foreign Ministry, the DW multimedia project "The Migration Dilemma" hosted a town debate in Abidjan, Ivory Coast, with the hope of discouraging young people from attempting the dangerous trip across the Mediterranean Sea.
DW and its partner radio station Yackoi FM organized the town hall and invited the government and other stakeholders. The government was represented by the Ivory Coast's youth minister, Sidi Tiemoko, who told those present that "we cannot absorb all job seekers into the administration."
Tiemoko quickly left the venue after making the remark. His colleague Issiaka Konate, the secretary of state in the Integration Ministry, did not add much on the subject. "El Dorado, which we all seek, does not exist," Konate said. "Our young people have to understand that they can decide their destiny in their own country."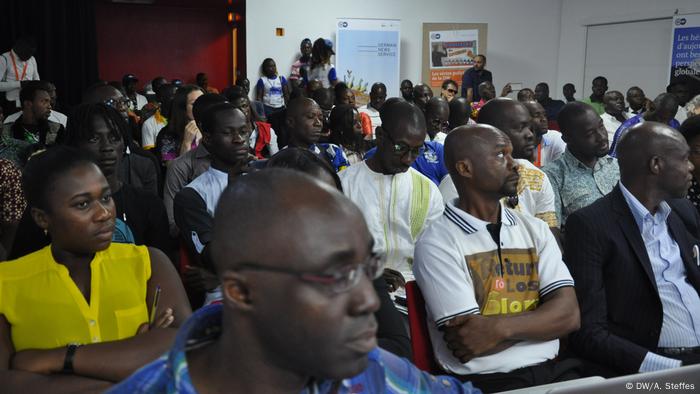 Particpants at the town hall debate
Addressing 'those affected'
Yackoi FM's discussion was broadcast across the Ivory Coast. It will be followed by four further debates: in Banjul, the capital of Gambia; Jos, Nigeria; Accra, Ghana; and Conakry, Guinea. At the end of 2016, DW invited partners for discussions in Dakar, Senegal; Bamako, Mali; and Niamey, Niger. The idea featured in many prominent media outlets and on such platforms as Facebook.
"Thanks to Deutsche Welle for shedding a light on this current phenomenon, which has become a problem for the international community," Eric Quenum wrote from Cotonou, Benin.
In addition to the public debates and radio discussions, "The Migration Dilemma" offers features in the French, English and Hausa languages and explores the trials and tribulations of people who are seeking more sustainable conditions in Europe. Many of them do not safely make it across the Mediterranean Sea. It also shows how some smugglers try to convince Africans that Europe is a paradise and diminish the dangers of the journey.
"We are glad that we do not lead the debate on causes of escape, migration and stay perspectives from Berlin or Bonn, but directly on the spot with those affected," said Claus Stäcker, the head of DW's Africa programs and the initiator of the project. "We knew that the frustration among the young people was enormous, but we were surprised at how big the call is."
The focus of the project is on the West African countries that send the largest number of people to Europe in search of more sustainable conditions: Gambia, Nigeria, Ghana, Guinea and Ivory Coast. DW has been in Africa for over 50 years and boasts a network of about 140 local correspondents.