Camarote.21 will be aired by DW's partner and Brazilian public broadcaster Rede Minas every Sunday at 3:30 p.m. (local standard time), with repeat broadcasts on Monday at 8:30 p.m. and Thursday at 11 p.m. Rede Minas is one of the country's largest public television broadcasters. The show is also available on DW's news website for Brazil.
"Following the recent expansion of our Spanish-language television programming for Latin America to 24 hours a day, we are now also increasing our offerings for Brazil," said Deutsche Welle Director General Peter Limbourg. "Brazil is gaining in political and economic significance, and the country is an important partner for Germany, as the 2013/2014 German-Brazilian Year shows. DW's increased presence in Brazil pays tribute to the bilateral relations. Each week, Camarote.21 provides a new glimpse into the worlds of music, literature, art and cinema, with special attention given to topics that connect Brazil and Germany," commented Limbourg.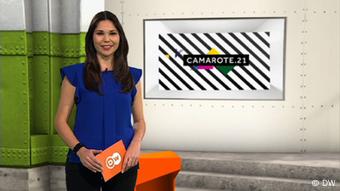 Camarote.21 host Francis Franca
The show's host is Francis Franca, who has been with DW since 2009. In Camarote.21, she shares cultural highlights, from the music of Beethoven to the work of contemporary artists, with viewers in her home country. "For example, we will invite Brazilian artists currently touring through or based in Germany into the studio or visit them where they work," explained Rodrigo Abdelmalack, head of DW's Brazilian department. "Camarote.21 aims to help Brazilians learn more about the Germany of today," Abdelmalack continued.
DW has been producing a science and technology television show for Brazil since 2012. Titled Futurando, it is broadcast by local partner stations in the country. DW also offers a multimedia news website in Portuguese for Brazil (dw.de/brazil), focusing on international politics, human rights, democracy and civil society in Brazil and in Europe.