Zerak Zaheen knows the region like the back of his hand. For him, the Kunar province, in the east of Afghanistan, is like home. But every time he goes off to work as a reporter, he risks danger. In Kunar, violent fighting with the Taliban is a common occurrence.
Despite the threat, one morning at the beginning of this month, the 23-year-old DW journalist left for work as he does every day. This time he was reporting on the construction of a new express highway. He visited the site and conducted his interviews quickly. After taking a couple of photos he was on his way back home to write the report.
Taliban roadblock
But Zerak Zaheen was not able to return home as quickly as he had thought. In a remote area, more than ten men stopped the white Toyota Corolla.
They asked Zaheen and his driver for their papers. As he only had his press card with him, the bearded Taliban fighters demanded that Zaheen get out of the vehicle immediately, sending his driver away in the car. "They threatened me and accused me of being a spy," Zaheen said.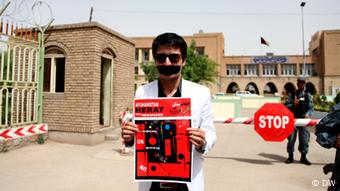 Press freedom faces constant threat in Afghanistan
Zaheen remembered the dramatic stories he had heard from his colleagues: hours of interrogation, beating and worse. "Of course I have always been afraid that I would one day be caught. But because I mainly work on topics related to reconstruction, I had hoped that I would get away unscathed."
The fighters spoke a strange dialect. The little that Zaheen could understand threw him into panic. The fighters discussed killing him as if they were already bored of the situation. But the group's leader wanted to first question him and inspect his equipment. When they discovered a few files on his laptop which Zaheen could not open, the Taliban became suspicious and hit him.
In the end, Zaheen was lucky. He was able to convince the Taliban that he was not an American spy, but really a journalist. The fighters kept his equipment, but he was set free. Zaheen walked to the nearest police checkpoint, where he received help. Back at home, he fell into bed, exhausted.
Pressure from all sides
But the next day, Zaheen received another unpleasant surprise. This time the Afghan secret police were at the door. They wanted to know why the Taliban had let him go. Zaheen must be in league with the Taliban, the secret police suspected, otherwise he would have been killed. Hours of interrogation followed. Journalists "come under suspicion from all sides," Zaheen says. "Because you are a journalist, you are suspected of being a liar or a spy."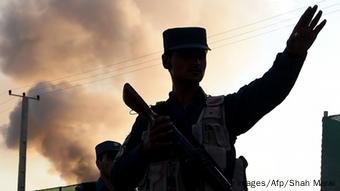 Secret police interrogated the DW journalist for hours
"It is not only the Taliban that terrorize us. Also the government puts journalists under pressure," fellow DW journalist Sayed Abdullah Nizami says. "Then there are the mafia and the warlords." Nizami, who also works for the BBC and Al Jazeera, has been a journalist for over a decade. For him, arrests and interrogations are a part of the job. In his experience, journalists are even threatened by NATO troops.
"It was particularly upsetting when foreign troops imprisoned me for two days in 2011," he says. When dozens of civilians had been killed in a NATO attack, Nizami arrived to report on the incident, and he was arrested. He was in prison for two days before President Hamid Karzai granted him bail and he was released. "Nevertheless, they deleted all my footage," says Nizami.
Violence against journalists
Zaheen and Nizami have escaped lightly so far. But the number of attacks and murders is rising. "Since the beginning of 2014 there have been 60 cases of violence against journalists," says Sediqullah Tawhidi, head of the media organization Nai Media Watch. The number of unreported cases is estimated to be even higher. "Until now, around three journalists were killed every year. This year, there are already six dead," he added.
Progress in the area of freedom of press was one of the few successes of Karzai's government. But little was done to protect journalists, criticizes Tawhidi. "The Ministry for Information and Culture has not met its responsibilities towards journalists," he says.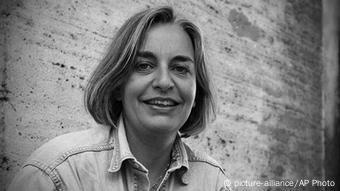 German war photographer Anja Niedringhaus was killed in Afghanistan at the end of April
Incidents of violence are registered, but only rarely followed up. The recent trial of the murderer of Anja Niedringhaus is an exception.
Rigorous censorship under the Taliban
The Taliban are well known for their strict approach to the media. During their five year reign of terror until 2001, owning a television or listening to foreign radio was punished. Many Afghans have not forgotten the dark years without information or entertainment.
"I became a journalist because of the effect this period had on me," says Zaheen. "We had no possibility to listen to the news or to find out what was going on in Afghanistan, let alone in the rest of the world. I love this job and will continue to do it."