A state-of the-art stereo system can make music lovers feel like they've been transported to front-row seats at a concert, without leaving their own living room. But even for those who can afford a system with surround-sound and crystal clear acoustics, no one has yet created a stereo that can reproduce the smell, the presence or the electricity of watching a live band.
Which is why the "Live in Your Living Room" project is proving so popular.
"I first had the idea to organize house concerts on a regular basis back in the early 90s when I was a student," founder Kees Jonkheer told Deutsche Welle. "I organized a concert about once or twice a month, mailing people and sending out fliers because this was before the Internet was really huge. So this created a small network but it didn't really work out."
It wasn't until Jonkheer relaunched the house concert project in 2002 - this time with the help of the Internet - that it really took off.
Two sets on a Sunday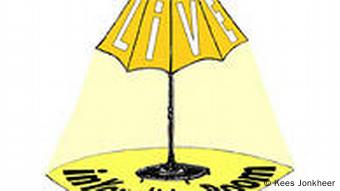 The second coming of LiYLR has been aided by the Internet
Anyone can host a living room concert as long as they live in one of the12 Dutch and Belgian cities currently on the Live in Your Living Room tour schedule. Mainly taking place on Sunday evenings at around 8:00 pm, three diverse bands each play an initial set of 15 minutes to a gathered audience of friends and strangers.
The playing is broken up by intervals of 20 minutes, which allows the paying guests to socialize over drinks and snacks. The bands then perform a second set, again of about 15 minutes each.
While the Internet can take some credit for making the promotion and organization of the living room concerts much easier, Jonkheer believes that the uniqueness of the live event itself is responsible for the concept's growing popularity.
"The idea was to have an intimate concert without people shouting for beers at the bar and people talking over the music," Jonkheer said. "It's a very intimate environment and the audience is very attentive - and the artists love this."
'Microscopic' performances
Michel Mulder of the band Lee Mason agrees. His band signed up for Live in Your Living Room and have thoroughly enjoyed their experiences.
"Imagine you are in a room with 30, 40 people and at a certain point someone says, 'Hey, this is Michel and he is gonna sing you a song'," Mulder said."Then everybody looks at you and there's total silence. And no stage. And you don't know anyone, but the other people all know one another."
"It's a very microscopic way of performing," he said. "Every breath you take will be heard, every drop of sweat will be seen and every mistake will be very, very apparent and might break the spell. You have to adjust yourself to that, but when you do, and you really get into your music the audience will be able to follow you very closely. And that's just an amazing way of playing for people. Because it's so intimate and literally close, the audience can really see what you are doing."
Don't expect Led Zeppelin
The environment is so attractive to artists that the organization has been able to book well-known artists for small fees - just because they're interested in playing in living rooms. For their part, the audience members can get much closer to top musicians than they would be able to in a stadium or hall.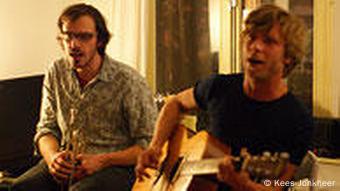 Singer-songwriters are keen to appear at Living Room shows
It is unlikely that any megabands - say, the remaining Beatles or Led Zeppelin - will choose a living room as the venue for their next comeback concert, but hosts may still get a well-known Dutch or Belgian artist turning up to entertain them. Or, more likely, an up-and-coming act taking their first steps to stardom could be sandwiched between their DVD collection and a house plant.
Successful Dutch singer-songwriter Ane Brun has graced a number of cosy apartments on the circuit while Belgium's up-and-coming troubadour The Bony King of Nowhere has been known to strum his stuff in the odd parlor.
"As a host, you are most welcome to express your preferences for which kind of music you want, but we don't want the host to become responsible for creating a bill of artists so we mostly confer with the host and book the bands we think will work," said Jonkheer. "We normally mix it up with well-known artists and newcomers, so the new guys can have the experience of appearing with established acts, and we continue to book acts as we've always done, mainly from the alternative music scene."
Promoting artists, providing entertainment
The living rooms concerts don't only provide a service and entertainment in private houses for people who want an intimate musical experience, they also give singers and groups the chance to play live in an usual setting and bring their music to new audiences.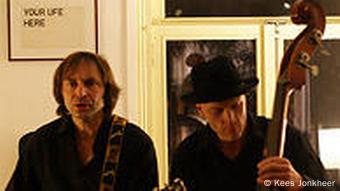 The success of LiYLR has music-industry listening
"We had the idea from the start that we would balance the promotion of bands with the service aspect of the business, giving the promotion and entertainment sides equal importance in our plan," said Jonkheer. "It seems to be a very popular model because, although there's no data to support this, more venues are looking to the living room concerts as a model for how they present and promote bands.
He also noted that some bands now playing in large venues on the club circuit were completely unknown before they played in living rooms.
With the living room concept taking off in a big way, Jonkheer and his regional organizers have had to come up with other ideas as to how they can serve the growing demand for house concerts. From putting on one show a month in 2002, the team now puts on about 90 shows a year.
Expansion into tours and international festivals
In an attempt to keep things fresh, the organizers have now branched out to provide the LiYLR Tour, a ten-date tour schedule for artists and bands wanting to play in living rooms throughout the Netherlands and Belgium. The LiYLR team plans the tour to the band's specifications and arranges living rooms and dates tailored to their needs.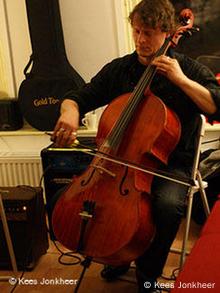 Artists enjoy the alternative tour schedule
"The Live in Your Living Room Tour is based on the idea that the artist or the act is the client and they can come to us and say, 'we want a tour of about ten living rooms, playing in these cities, and we're available on these dates.' Then we work it out," Jonkheer said.
The tour concept was started just this year and the fifth tour is already in the works.
In addition, the living room concept is spreading further afield - even to New York, where the team's first festival took place in September. The idea is to promote Dutch and Belgian bands in New York who wouldn't find it easy to set up a tour on their own. Barcelona is the next city on the list for a mini home-concert festival.
"We had seven living room concerts in one week, and we hope to do that again in April," Jonkheer said of the New York project. "We're now planning for the next one and we've already had 25 bands applying, including some quite well-known bands who are really looking to get spotted in the States."
Lee Mason played in the New York festival and Marcel Mulder can attest to its success.
"We did a series of 10 concerts and had a wonderful experience over there," Mulder said. "Doing house concerts, The New Island Festival, and playing living rooms...I'm still in contact with people who attended our concerts and liked the music and also with musicians we played with. People were so enthusiastic that they are now arranging stuff with record-companies and so on. I am quite sure that if we would have only done clubs, this would not have happened."

As the project goes from country to country, it seems ever more likely that you will soon be able to catch a band in a living room near you in the future - maybe even in your own.
Author: Nick Amies
Editor: Kate Bowen