Plants need carbon dioxide, along with water and light, to photosynthesize, and the more CO2 they receive, the better plants grow. While working for an energy company in the 1990s, Jacob Limbeek and his late colleague Hans Tiemeijer realized commercial greenhouse owners were burning natural gas to produce CO2.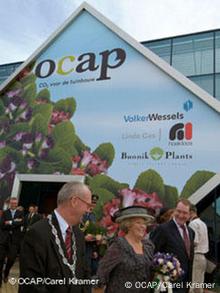 OCAP was officially opened by the Dutch Queen Beatrix
"We started trying to look for a solution to solve this problem and get carbon dioxide from elsewhere to greenhouses to save on the use of fossil fuels," Limbeek explained.
The two then started the company Organic Carbon Dioxide for Assimilation of Plants (OCAP).
Pernis refinery largest in Europe
According to Limbeek, Royal Dutch Shell were very happy to sell CO2 from their Pernis refinery, but the oil giant needed "a bit of getting used to the idea" because they weren't used to supplying directly to customers from such a large refinery.
Once Limbeek and Teemeijer had identified a source of CO2, they still then faced the problem of transporting the gas.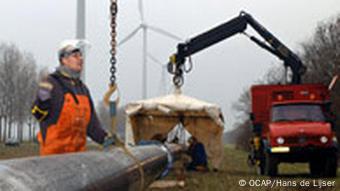 OPAC built a pipeline network for the CO2
"We [discovered] an existing pipeline that was not being used anymore, lying from the harbor in [Rotterdam] and running all the way to Amsterdam -- about 85 kilometers," explained Limbeek.
The pipeline used to transport oil, but hadn't been used for more than 25 years. And OCAP still had to construct a distribution grid of smaller pipes running to the individual greenhouses.
Limbeek and Tiemeijer managed to attract 100 million euros in investment from Volke Wessels, a large construction company in the Netherlands, and Hoek Loos, a producer of industrial gases owned by German company Linde AG.
The Dutch government also helped to get OCAP's greenhouse project off the ground by providing subsidies and granting permits for the construction of the pipe network.
OPAC started delivering carbon dioxide in 2005, and now supplies around 400 greenhouses. This saves 170 thousand tons of carbon dioxide emissions each year -- equivalent to the amount of carbon dioxide produced to warm one hundred thousand households. A further 100 greenhouses are soon to be added to the supply chain.
CO2 acts as a "sort of fertilizer"
Patrick Grootscholten was among the first commercial greenhouse owners to sign up with OCAP. Standing among his red and yellow paprika plants, Grootscholten said the vegetable grows "about 25 percent faster" when the concentration of CO2 is doubled.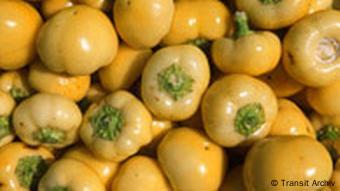 Most vegetables in the Netherlands are grown in greenhouses
Grootscholten said the price of gas was so high that it was "a good investment" to buy the CO2 from OCAP instead of creating his own gas.
Even though these greenhouse owners have stopped burning natural gas (thereby producing excess carbon dioxide) to grow their crops, the carbon dioxide from Shell still ends up in the atmosphere when the greenhouse plants eventually decompose.
Oil giants not doing enough
The Climate Campaigner with Greenpeace Netherlands, Joris Thijssen said the oil companies themselves needed to do more to reduce global warming.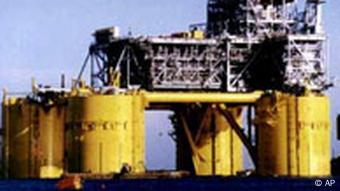 Shell is the second biggest oil company in the world
"Shell is a multi-billion euro company. They drill and seek for oil everywhere on this globe and they have a responsibility to do a lot more to prevent global warming from happening."
Shell declined to be interviewed for this story. According to its website, the company has now invested over one billion US dollars in alternative energies and is a leading developer of advanced biofuels technologies. These are fuels derived from biomass such as plant crops like oil seed, or plant wastes like straw.
Is Shell just improving its image?
Thijssen believed that Shell selling its CO2 was "partly a PR stunt" to polish the company's image but added that Greenpeace was "happy" with Shell's involvement.
"On the one hand, I am glad for every dollar they invest in the right technology," he said. "On the other hand, I see billions going into the wrong technology and if you want that image, you should deserve it, and you should also invest billions in renewable energy.''
According to Thijssen, because oil companies make their money from oil, many of them view alternative fuels as a threat to their business. But OCAP's greenhouse project makes it clear that economics and ecology can go hand in hand.