A 48-year-old Ukrainian truck driver rammed a German police car that was waiting for him on the shoulder of the A61 freeway after being alerted by Dutch police, killing one officer and seriously injuring two more. The driver was later apprehended and is currently in police custody, according to the Mönchengladbach police department in the German state of North Rhine-Westphalia.
Authorities say it is unclear whether the driver intentionally rammed the car. If so, he could be charged with murder. The driver, who police say had a high blood alcohol level, is currently being held on charges of reckless driving, negligent homicide and negligent physical injury. The investigation is ongoing. Police are also conducting blood tests to determine whether the man was under the influence of any other drugs.
Read more:
- Drunken train driver halted by German police
- 'Drunk driver' charged in New Orleans Mardi Gras truck crash
- Pilots arrested in Scotland on intoxication charges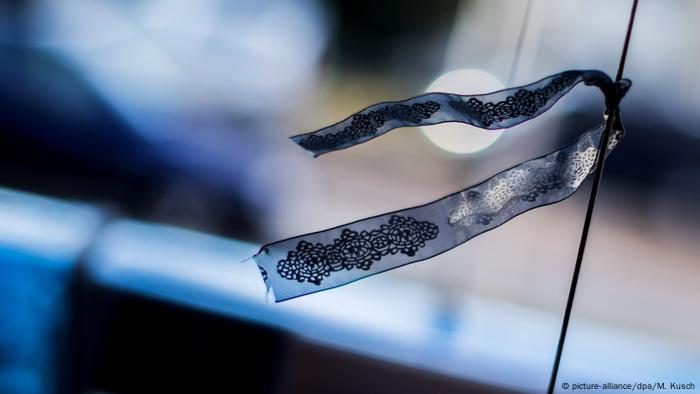 State police cars will be decorated with black ribbons in remembrance of their colleague
Motorist's tip
A motorist in the Netherlands had originally contacted Dutch police after observing the truck weaving as it drove along the highway toward the German city of Koblenz. Dutch authorities, in turn, notified their German colleagues, who dispatched a car to apprehend the truck. The witness, a 40-year-old Dutch man, was behind the truck when it rammed the German officers. He reported that the truck swerved sharply from the left as it approached the police car, pushing it more than 200 meters (657 feet) down the freeway late on Wednesday evening.
Deadly impact
The violence of the impact as the 40-ton truck rammed the parked police car immediately killed one 23-year-old officer in the backseat. The 48-year-old driver of the police car sustained life-threatening injuries and her 22-year-old colleague in the passenger seat suffered severe injuries. Authorities say there was no way for the officers to have known what the driver would do as he approached.
North Rhine-Westphalia's Interior Ministry announced that the state's police cars would be decorated with crapes over the coming days in memory of the deceased officer. Both of the injured officers remain hospitalized.