After barring President Jacob Zuma from the event, the funeral for renowned anti-Apartheid activist Ahmed Kathrada on Wednesday turned into a rally against South Africa's scandal-ridden leader, Jacob Zuma. A longtime African National Congress (ANC) politician, Kathrada had himself called on Zuma to step down in a public letter.
Former President Kgalema Motlanthe received resounding applause when he read out extracts from the letter at the memorial in Johannesburg. He said Kathrada had been "deeply disturbed by the current post-Apartheid failure of politics."
'Down with Zuma'
"He found current leadership wanting on many fronts... and would not hesitate to call for the resignation of the president of the country with whom the buck stops," Motlanthe said. Mourners then began to shout "down with Zuma."
Born in 1929 to Indian immigrant parents, Kathrada left school at 17 to begin what would become a lifetime of fighting systematic racism in South Africa. He was arrested multiple times for acts of civil disobedience, spending time in the country's infamous Robben Island prison. He came into contact with the ANC in the 1950s, and was sentenced to life imprisonment in 1964 alongside Nelson Mandela and other leaders after the organization was banned.
He joined parliament as a member of the ANC after Apartheid was repealed in 1994. He died on Tuesday at the age of 87 following complications from a cerebral embolism.
Kathrada "saved us from the darkness of our hearts," Motlanthe said in his tribute.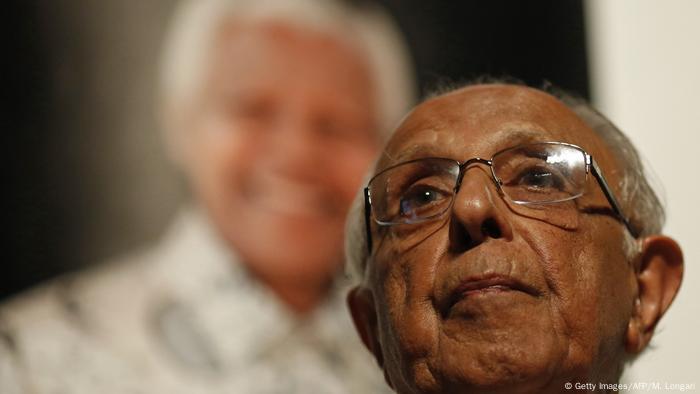 "Now that the court has found that the president failed to uphold, defend and respect the constitution as the supreme law, how should I relate to my president?" Kathrada wrote in his letter to Zuma
Dark days for the ANC
Despite its decades of importance in the struggle for civil rights, the ANC, particularly under Zuma, has gone through a series of corruption scandals and in-fighting that has tarnished its reputation in politics. Kathrada was finally moved to personally ask the president to resign last year after the country's top court ruled that Zuma had illegally used public funds to upgrade his home.
Kathrada's family thus asked him to stay away from the memorial in an embarassing sign of disconent with his administation. At the same time, Zuma was further engulfed in a scandal over a plan to sack Finance Minister Pravin Gordhan and replace him with a loyalist.
Speakers at the funeral highlighted Kathrada's "incorruptible" leadership in comparison to those who now rule South Africa. Higher Education Minister Blade Nzimande bemoaned the fact that Kathrada had died "when his wisdom is needed the most, when parasitic patronage seeks to capture the movement."
Kathrada's coffin was draped in an ANC flag and then carried to the cemetery amongst a crowd of hundreds who had gathered to pay their respects.
es/jm (AFP, dpa)