The image was nothing new. Borussia Dortmund coach was watching from the stands when the final whistle blew, this time in his home stadium against Borussia Mönchengladbach.
Referee Deniz Aytekin had punished Klopp for his verbal attack on the fourth official while standing on the sidelines, just ahead of the final whistle. "Mr Klopp's behavior was rude on more than one occasion," the referee was reported as saying in the match report by the German mass-circulation newspaper Bild. It was the eighth time in Klopp's career that he was banished to the stands.
Klopp's outbursts down the years have cost him a small fortune. Back in 2004, as coach at Mainz, he had to pay 2,500 euros for unsporting comments against the refereeing team in an away match at Kaiserslautern. Three years later, while still at Mainz, he was ordered to pay 12,500 euros. Away from home, this time against Werder Bremen, Klopp had yelled "You idiot" in the direction of referee Thorsten Kinhöfer.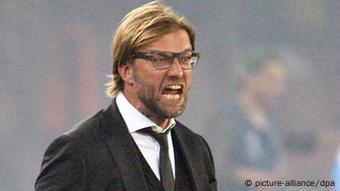 Klopp's "world famous" facial expression
But it was as coach at Borussia Dortmund that Klopp really got going. At the end of 2008, after a defeat to Hamburg, he launched a verbal tirade against referee Jochen Drees and his assistants, first on the field, then in the referees' cabin. For that, there was a 12,000-euro penalty.
In a game against Cologne at the beginning of 2010, Klopp left the coaching area several times and was again sent to the stands. This time, he had to pay 5,000 euros.
Escalation and apologies
Just 10 months later, in the game against Hamburg - enraged after a foul by Ze Roberto on Mario Götze - Klopp ran to the fourth official Stefan Trautmann, pushing the peak of his cap into the assistant's face. That was followed by a 10,000 euro fine - and with it came an admission by Klopp that he had been in the wrong. "It wasn't right," he said, and apologized to Trautmann.
However, it was to be the same all over again two years later in Frankfurt. The Dortmund boss charged up to fourth official Guido Kleve, yelling. He was given his marching orders once again. "It didn't look good," said Klopp afterwards, having to pay a 6,000-euro fine.
A year later, Klopp topped it all by transgressing on the European stage. In September 2013, he was sent to the stands by referee Pedro Poenca in Dortmund's Champions League game against Naples. Klopp had been screaming at close range into the face of the fourth official. Again, he was contrite.
"I made a fool of myself and it's not acceptable," he said. "I went over the top, and it was completely stupid." UEFA imposed a two-match ban.
No improvement in sight?
Klopp's latest outburst came on Saturday, in Dortmund's home game against Borussia Mönchengladbach. This time around, however, Klopp was not so apologetic. "I have often, quite rightly, been punished in the past, but it was nothing on this occasion."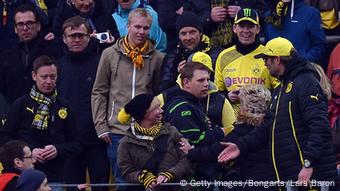 Even in the stands, Klopp can find himself getting wound up
"I know what I said: there was a situation where I turned around to him and said, 'Are you not going to blow (the whistle) there?' admittedly with that now world-famous look on my face. It was nothing more. He can't send me off for that."
Dortmund chairman Hans-Joachim Watzke saw no reason for Klopp to be punished this time around. "I have to support Jürgen Klopp 100 percent in this case," said Watzke. "He didn't insult anyone. What Jürgen Klopp did, the other 17 coaches also do."
Despite this, the German Football Association's sporting tribunal imposed a fine of 10,000 euros on Klopp "because of unsporting conduct." This sum takes the cost of Klopp's outbursts so far to 58,000 euros. On Saturday there were some controversial calls by referee Deniz Aytekin, who appeared to be having his own nerve tested. While Klopp claimed the current case was unjustified, though, he will not be appealing the fine.