Everlasting love, exuberance, profound sadness and difficult challenges. The love of couples is always put to the test by Bollywood films, as is their readiness to sacrifice. Bollywood films take the viewer on an emotional rollercoaster ride, but because they are essentially fairytales happy endings are always expected and granted.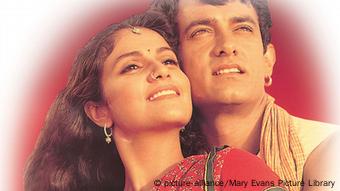 Romance is a main Bollywood theme
This is precisely what bothers M. Madhaya Prasad, a film professor in Hyderabad: "Our films influence people and society. But they depict a reality that has nothing to do with the viewers' reality."
True transformation?
Indian society is very hierarchical and even though the caste system was officially abolished in the 1950 constitution, discrimination according to caste continues nationwide. And even though society has become more open and tolerant since the beginning of the 1990s, with economic progress and educational advancement, it is not so simple for barriers between people with different backgrounds who love each other to be overcome as in the movies.
Only a fraction of India's 1.2 billion-strong population lives in urban centers such as Delhi, Mumbai, Kolkata or Chennai. The 2011 census found that two thirds of Indians lived in rural areas and earned their living directly or indirectly from agriculture. According to UNICEF statistics released in 2012, some 90 percent of marriages are still arranged. Although in cities many marriages are love-based, they are still arranged by a couple's family. It is still very rare for Hindus, who make up 80 percent of the population, to marry Muslims who comprise 16 percent of Indians.
Bollywood films such as "Bombay" (1995), "Gadar" (Revolt, 2001), "Veer Zaara" (Veer and Zara, 2004) or "Jodhaa Akhbar" (Jodhaa and Akbar, 2008) have broached these taboos. The Muslim stars Shah Rukh Khan and Saif Ali Khan are idols because they have married Hindu women in real life.
Reflection of a society or dreams?
The director Kunal Kohli, who has made a name for himself with the romance films "Hum Tum" (You and me, 2004) or "Fanaa" (Annihilation, 2006), said film could not do that much. "If films really did influence people, then we would all make each other laugh and we would dare to fall in love much more often," he told DW. "But that doesn't happen. Films do not really influence real life, even if they are based on real life."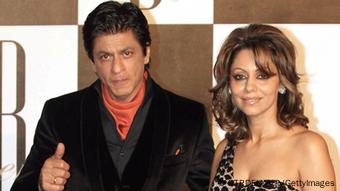 Shah Rukh Khan with his wife Gauri
The renowned writer Javed Akhtar went one step further. "The films certainly do reflect what is happening in society. But they reflect the desires, the hopes, values and traditions. They are not a real reflection but the dreams of a society."
Cinema is entertainment
"Dirty Picture," starring the actress Vidya Balan, looks at the issue of which films strike a chord with the public. It tells the story of Silk Smitha, a South Indian erotic actress who committed suicide after being ostracized by society. Vidya Balan, who is set to quit making films, says she is disappointed after failing to acquire any demanding roles. "So as to make successful films you need three things only: entertainment, entertainment and entertainment," she said.
Ranjini Majumdar from Jawaharlal Nehru University in Delhi would agree, but is not so critical. "To begin with, cinema means entertainment. We can't expect directors to portray the hard realities of society. This is not the task of commercial cinema."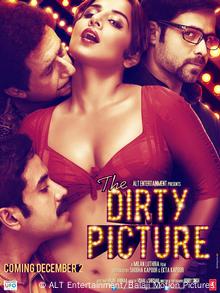 Strong women are increasingly becoming part of Bollywood
However, "Dirty Picture" does highlight one new trend in Bollywood cinema. For many years, women tended to have decorative parts. Now there are more films in which strong, successful women play central roles.
Reality versus commercial success
Only a few films have really depicted real issues in the past few years; for example Vishal Bhardwaj's "Maqbool" (2003), about the mafia in Bombay, or Anurag Kashyap's Black Friday (2004) about the Bombay blasts and communal rioting in the city between Hindus and Muslims. Although it was praised by the critics, it was shown in very few cinemas in India.
Some films such as "Salaam-Namaste" (2005), "Taare Zameen Par" (A Star on Earth, 2007) and "Dostana" (Friendship, 2008) have managed to combine serious themes, such as dyslexia or homosexuality, with Bollywood's dreamworld. However, such movies remain the exception.