Hans Hass' family announced on Saturday that the famous Austrian zoologist and undersea explorer died last weekend at the age of 94. Hass published 32 books and produced 73 films during his career on the seas in his "Xarifa" boat. He was born in 1919 in Vienna.
Hass' reports both funded his own adventures and brought images and descriptions of aquatic life into German-speaking living rooms. His 1951 film "Adventure in the Red Sea" was one of the first post-war films to make the underwater world observable to all.
Hass was bitten by the bug early, publishing his first book, "Hunting underwater with a harpoon and a camera," aged 20 in 1939. His career took him all over the world, with sharks his great underwater love.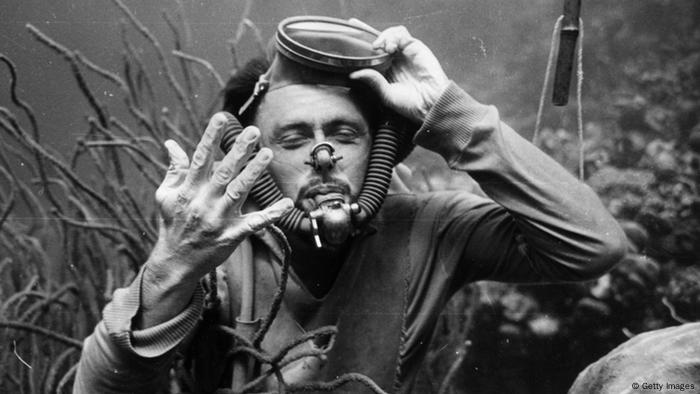 Hans Hass became a household face on television, starting to explore the depths as early as the 1940s
"Today divers are ten a penny. When we started diving, we were the very first people to make such inroads," Hass said shortly before his 90th birthday.
Lord of the sharks
Hass consistently campaigned for a better reputation for sharks, seeking to remove their stigma as savages of the sea. He released films including "People among sharks," and books like "Among the corals and the sharks" or "The shark – the legend of a murderer" to seek to improve awareness on the animals. Hass was later nicknamed "The Lord of the Sharks" for his efforts.
Hass developed a string of methods and tools to allow him to better scour the seas; he made the first working underwater camera, developed special diving fins and implemented a new diving kit with oxygen supply that enabled him to act more independently of his research ship.
"I wanted to move like a fish among the fishes," Hass once said of his work.
Hass stopped diving himself decades ago, but remained a prolific writer on the issue. He also continued to campaign for undersea creatures and became a keen advocate of ecologist causes in later life.
msh/jm (AFP, dpa)