Deutsche Bahn employees' computer files were scrutinized "only in those cases, in which there was a concrete suspicion of internal company data being illegally passed on," the company said in a statement on Sunday, April 19.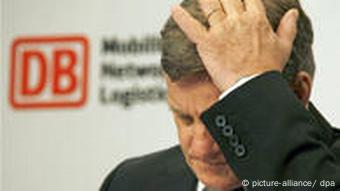 The spying scandal has already claimed the job of Deutsche Bahn chief Hartmut Mehdorn
The announcement came in response to a report by the German weekly Der Spiegel, which claimed that Deutsche Bahn had not only - as previously assumed - monitored hundreds of thousands of emails of employees, but also secretly searched their computer hard drives.
The existing spying quagmire was rendered even more treacherous by additional media reports linking the company's monitoring activity to a parliamentarian of German Chancellor Angela Merkel's governing grand coalition.
According to the Berliner Tagesspiegel newspaper, transportation expert and member of the Social Democratic Party (SPD) Uwe Beckmeyer was on a blacklist of 30 Deutsche Bahn critics whose email correspondence with company employees had been screened since 2005.
The company, however, adamantly rejected this specific allegation.
"There never was any surveillance of journalists or politicians or their employees," the statement read.
Mehdorn's fall from grace
Embattled Deutsche Bahn Chief Executive Hartmut Mehdorn was forced to quit in March in the wake of mounting pressure over revelations the German state-owned rail operator had spied on staff.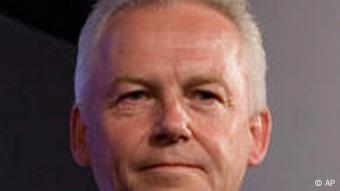 It is now up to Ruediger Grube to steer Deutsche Bahn through the spying crisis
Mehdorn claimed he was stepping down to avoid further damage to the company - Germany's largest with 230,000 employees. He described the campaign to oust him as unprecedented and denied any wrongdoing.
Mehdorn had already admitted in February that, as part of an anti-corruption campaign, Deutsche Bahn spied on 173,000 of its 220,000 employees in 2002 and 2003. Official documents have since shown Deutsche Bahn screened its entire workforce again in 2005 for corruption.
The 66-year-old Mehdorn had run Deutsche Bahn for nearly 10 years and won plaudits for turning it into a profitable global transport group ready for a stock market listing, but was heavily criticized for a confrontational approach to unions.
His hitherto unshaken support in Berlin, however, started to crumble in earnest as the scope of the spying scandal began to emerge, and finally public and political pressure became too much for the seasoned manager.
Germany's transport ministry subsequently endorsed 57-year-old Ruediger Grube, a top executive at carmaker Daimler, as the new head of the state-owned railways company.