Deutsche Bahn said in statement issued jointly with the transport ministry that the photos and papers on Jews sent to concentration camps could go on display at railway stations "and their immediate vicinity."
The company's chief executive, Hartmut Mehdorn, had previously resisted the idea, arguing that railway stations were not the right place for such a serious topic "because they are too crowded and people are in too much of a hurry to concentrate."
In April, when the decision to refuse the exhibition was made public, Deutsche Bahn spokesman Oliver Schumacher said: "We are very aware of the darker side of our company's history, but we think that this sensitive topic should be dealt with within the context of a museum."
Political pressure leads to u-turn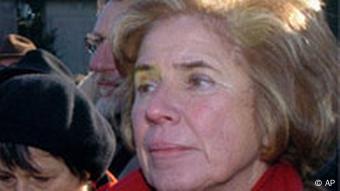 Klarsfeld's display of the photos in France was a success
Now Deutsche Bahn has relented after appeals from Transport Minister Wolfgang Tiefensee and Wolfgang Thierse, deputy speaker of the Bundestag, the German lower house of parliament.
The exhibition, focusing on the "immeasurable suffering of deported Jewish children," will open in Berlin on Jan. 27, 2008 -- the day on which Germany remembers the victims of the Nazis.
French anti-Nazi campaigner Beate Klarsfeld has been asked to provide material for the exhibition, which will also include exhibits from the railway's own museum in Nuremberg.
Artist targets German stations after French success
Klarsfeld's own exhibition on the fate of 11,000 deported Jewish children has already been shown at 18 French railway stations. She had wanted it shown at stations in Germany where the children were deported on trains operated by the state railways' predecessor, the Reichsbahn.
Monika Griefahn, a cultural affairs spokeswoman for the co-ruling Social Democrats, welcomed Friday's decision, saying it "showed Deutsche Bahn possessed the necessary qualities to come to terms with its own history." Griefahn added that showing the pictures at railway stations would confront people with the same public places were the deportations were carried out during Nazi rule.