Demonstrations in Germany's financial capital Frankfurt began at the city's district court and moved to Lehman Brothers' former German headquarters. Protestors' chants were directed towards banks and lenders who they said had given them poor financial advice, including encouraging them to invest in the doomed US lender, which crashed Sept. 15, 2008.
It is estimated that around 40,000 German small investors, many of them senior citizens and retirees, lost money when Lehman went under.
"We were promised things that were not true," said investor Brigitte Dreger at the Frankfurt protest. Dreger and her husband Erich said they lost 10,000 euros ($14,600) due to the collapse of the US lender.
The couple said they had been advised by the savings bank Frankfurter Sparkasse in March last year that any investment in Lehman Brothers would guarantee a sure return.
The Dregers said that within only six months a significant portion of the money from their retirement fund was gone.
Calls for tighter regulation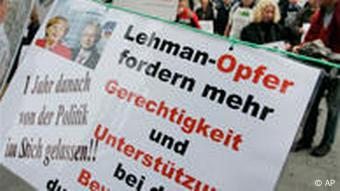 Demonstrators in Frankfurt called for their money back
A spokesperson for the organizers of the demonstration, Peter Kyritz, said the small investors were calling for stricter rules for investment consultants, adding that, after the global financial crisis, the advice of banks could not be taken seriously.
Some critics accuse financial consultants at German banks of advising in favor of Lehman securities because of the promise of larger commissions.
Demonstrations were also held in Berlin and Hamburg, where marchers carried their worthless Lehman Brothers investment certificates along with a coffin in a mock funeral procession.
In Berlin, many elderly former Lehman customers have been demonstrating weekly in front of city banks.
Under the motto "We've had enough, we want our money back," the group has even initiated a small theatre group to draw attention to their plight.
Life savings gone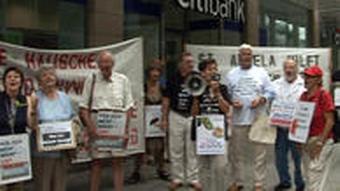 Seniors and retirees were hardest hit by the collapse
Annke Corte and her husband, both in their 70s, said that after 35 years of working abroad they were persuaded by major international lender Citibank to invest 83,000 euros of their combined savings in Lehman certificates. With the collapse of the bank the Cortes lost their life savings.
"We are protesting because we want our money back. You know the banks don't do anything voluntarily," she said at the Berlin rally.
"Under German law we have to prove that the banks failed in the truth of what they promised us. They told us it was a secure investment. I worked until 67 plus and thought I would have a nice retirement in my old home town Berlin. Then everything went totally upside down," she told Deutsche Welle.
German Minister for Consumer Protection Ilse Aigner said Tuesday that more compensation was needed for the victims of the Lehman collapse. "This does still not suffice," she told radio station Deutschlandradio Kultur.
dfm/AFPD/dpa
Editor: Susan Houlton