Workers sifted through rubble overnight to Friday after a 117-year-old condemned building collapsed in Mumbai on Thursday, trapping an unknown number of people.
"Overnight we pulled out 15 bodies, taking the total death count to 33," Tanaji Kamble, a disaster management spokesman for Mumbai's civic authority, told news agency AFP.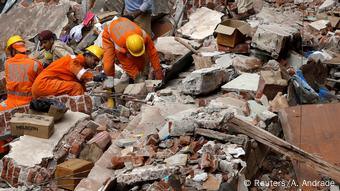 Rescue workers searched through the night for survivors
Some 13 people have reportedly been rescued and are recovering in hospital, with 14 fire and rescue officials also injured in the six-storey building, the chief fire official, P.S. Rahangdale, said.
On Thursday, about 200 police and fire personnel sorted through the debris. The injured were taken to the nearby J.J. Hospital in the south of the city while locals joined a 43-member National Disaster Response Force team in picking through piles of debris in a desperate hunt for survivors.
Police had yet to determine what caused the collapse near Crawford market, an area where many Muslims live.
The building gave way in the early morning on Thursday after the city suffered two days of torrential rain. It had housed a sweet shop warehouse on the ground floor, and cramped apartments on the upper floors. It also housed a nursery school despite having been declared unsafe by local authorities - no children had arrived at the school when the collapse occured.
The government gave final notice for the building's demolition in May 2016, but some families had refused to leave, according to Devendra Fadnavis, the chief minister of the state of Maharashtra.
More background
- Unusually heavy monsoon rains have inundated India, Bangladesh and Nepal in recent weeks, killing more than 1,200 people in floods. At least eight deaths in the southern Pakistani port city of Karachi were reported to be flood-related on Thursday.
- Building collapses are commonplace in India, especially during the monsoon season.
- Mumbai in particular has suffered a host of deadly incidents in recent years, mainly due to aging and poorly-constructed buildings.
- The collapse is the second in Mumbai in recent weeks. In late July, 17 people were killed when a four-storey building in the suburb of Ghatkopar collapsed after suspected unauthorized renovations.
- In 2013, the city suffered one of its worst housing disasters when 60 people died after a residential tower collapsed.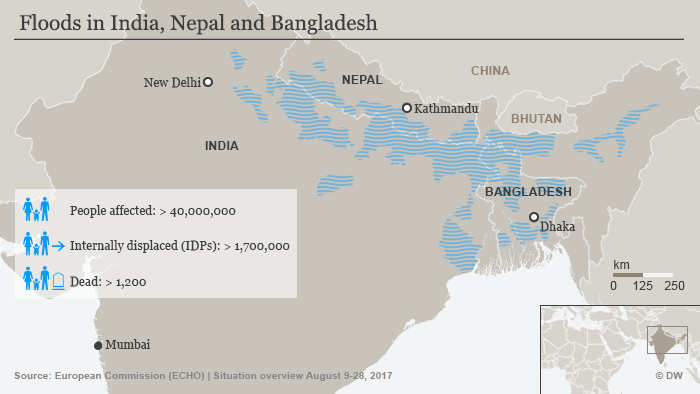 jh, se/kms (AFP, Reuters, AP, dpa)