Protests in Kazakhstan's Mangistau province spread to the region's capital of Aktau on Sunday, with about 500 angry protesters gathering near the main square to face a large force of riot police. The fresh demonstrations come a day after rioters blocked a passenger train and vandalized a village before police reportedly opened fire, killing one person and wounding 11 others.
Kazakhstan's Interior Minister Kalmukhambet Kasymov said on Sunday that live firearms would continue to be depolyed against protesters if necessary.
The violence began in the western city of Zhanaozen on Friday when sacked oil workers and sympathetic citizens stormed a stage set up in the town's main square to mark the 20th anniversary of Kazakhstan's independence. They later set fire to the city hall and the headquarters of the local oil company. Workers in Zhanaozen and other cities in Mangistau had been striking for months for higher wages.
A 20-day state of emergency was declared on Saturday and the town has been virtually cut off from communication, with phones disconnected, radio equipment prohibited and access to and from the city restricted.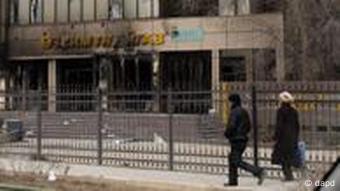 UzenMunaiGas' headquarters was one of several buildings set alight
"We want them to take away the troops," one of Sunday's protesters told news agency Reuters. The welder had been fired from the oil company Karazhanbasmunai (KBM) after working there for 20 years. "They killed local people."
Rare dissent
The offical death toll from Friday's clashes has risen to 13 and around 100 others are thought to have been wounded. Eyewitnesses have claimed, however, that the death toll could be considerably higher.
Public protests are rare in Kazakhstan, where President Nursultan Nazarbayev has held power for more than two decades. Nazarbayev tolerates little dissent and has overseen more than $120 billion (92 billion euros) in foreign investments. Kazakhstan is Central Asia's biggest oil producer and largest economy.
Author: Charlotte Chelsom-Pill, Holly Fox (AFP, Reuters, AP)
Editor: Nicole Goebel