At least eight people were killed and more than 20 injured when suicide bombers struck the city of Grozny in Russia's south-western Chechnya region late Tuesday.
An attacker blew himself up at a police post some 150 meters (around 150 yards) from parliament, killing two officers, an Interior Ministry official told news agency Reuters. Two more bombers followed with a second attack once more police and emergency workers had arrived on the scene.
At least seven police were among the dead. Twenty-two others were hospitalized after the blasts, five of whom were believed to be in a critical condition.
Chechen leader Ramzan Kadyrov told Russian news agency Interfax that one of the bombers was the brother of a man who carried out a suicide attack in Grozny last year.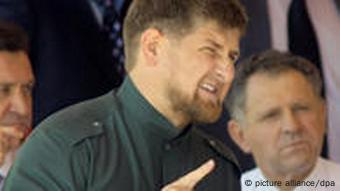 Kadyrov has been trying to encourage investment in Chechnya
The attack was the worst in years in the North Caucasus region, which has been the focus of significant reconstruction efforts after two post-Soviet wars against separatist rebels there.
The ongoing Chechen Islamist insurgency, which President Dmitry Medvedev has described as Russia's greatest domestic challenge, has spread to neighboring provinces.
Kadyrov has sought to portray the region as a safe-haven for investment and stability, but this has been undermined by sporadic violence.
Chechnya experts and rights groups say heavy-handed police tactics aimed at nullifying the Islamist threat have pushed many young men into the extremist fold.
But signaling this approach was unlikely to change, Kadyrov was quoted Wednesday by Interfax as saying he was convinced "that only tough, uncompromising measures can uproot this evil."
Author: Darren Mara (Reuters, AFP)
Editor: Nancy Isenson