Six teenagers whose bodies were found in a remote garden shed all died due to carbon monoxide poisoning, according to police.
All the deceased were between the ages of 18 and 19, with three of the victims from Arnstein in northern Bavaria and the other three from neighboring localities, local prosecutors said.
According to police, a concerned father found the bodies after going to look for his missing son and daughter, who had held a small party in the shed the night before. Upon realizing they had not returned home, the father set out searching Sunday morning and discovered his children's bodies alongside four other teens.
Police initally suggested that initial signs pointed to a possible overdose on an unknown substance. However, they confirmed on Thursday that a gas-powered generator had caused to the carbon monoxide poisoning.
A town in shock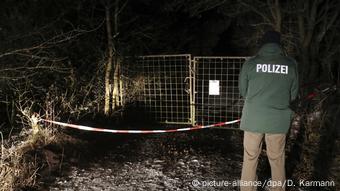 Police currently can only speculate at the cause of death.
The gruesome discovery has shaken the small locality of around 8,000 inhabitants.
The deputy mayor of Arnstein, Franz-Josef Sauer (Christian Social Union), told news agency DPA that he will focus on the victims' families, giving them the space they need. "We must also ensure that we support our town as well as possible," he added.
Flags flew at half-mast on the town hall and Arnstein's Catholic church, St. Nikolaus, held a memorial service on Monday evening.
rs, cmb/kms (AFP, dpa)