Every two years, a diverse group of music lovers heads to Bucharest in September to take in the George Enescu Festival. Since its founding in 1958, the music festival has made a name for itself among lovers of classical and contemporary music.
A 'magical' place
Bucharest was always an important center for music and a "place of magic," said conductor Daniel Barenboim, who performed this year with his Berliner Staatskapelle for 3,000 listeners at the event's glamorous opening.
The conductor and pianist spoke about the artist for whom the festival is named, saying, "Enescu was a wonderful violinist, pianist and composer. Perhaps his problem as a composer was that he was too modern for the conservatives of his age and too conservative for the modernists."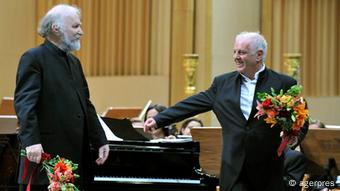 Radu Lupu (l) and Daniel Barenboim in Bucharest
The festival's intent is to promote the work of Romania's arguably greatest composer, particularly among international audiences. A number of the orchestras from abroad who gave performances in Bucharest left with at least one of his works in their repertoires - pieces that can then find their way into concert programs at home.
Dazzling cast
The crème de la crème of the international classical scene traded stages at an average of three concerts daily. Young US violinist Hilary Hahn, Russian pianist Evgeny Kissin and his Romanian colleague Radu Lupu all played. Chamber music was on the program, performed by Pinichas Zukerman with his trio, along with Fabio Bondi and his early music ensemble, Europa Galante.
A handful of the world's most celebrated orchestras also performed: The Academy of St. Martin in the Fields under Sir Neville Marriner dazzled audiences, along with the Orchestre de Paris with conductor Paavo Järvi or the London Royal Philharmonic Orchestra under Romanian conductor Cristian Mandeal.
In Wagner's anniversary year, Bucharest saw a performance for the first time of the complete "Ring" score with Market Janowski and the Berlin Radio Symphony Orchestra. With its wide-ranging program, the event could easily stand shoulder to shoulder with Europe's most well-known music festivals.
A socially-minded festival
This year's George Enescu Festival had the theme "Magia Exista," magic exists, with concerts that left many enchanted. But fans of the event may have to do without it in coming years. Despite being one of Europe's poorest countries, Romania draws heavily on taxpayer money to finance the expensive music showcase. The government is now questioning its budget, where 90 percent of the funds come from taxpayer pockets.
Festival supporters say the government is misguided to consider pulling back on what has become a symbol of prestige for a country that is both geographically and financially on Europe's margins. With average incomes of around 350 euros ($470) in Romania, the George Enescu concert series offers residents a rare opportunity to experience top artists and orchestras.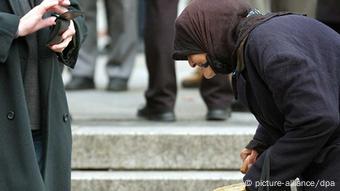 Poverty in Bucharest forms a stark contrast with the star-studded festival
However, some also point out that the ticket prices, while lower at many comparable events, remain out of reach for many Romanians unless they make a point of saving up for tickets.
Compromises and cuts
Defy the financial crisis with cultural riches could be the slogan for festival head Ioan Holender, the former director of the Vienna State Opera. But he already had to leave some things out this year due to the country's immense economic problems. An international competition for young musicians, singers and composers was pushed back. Concert programs in other cities of the country were streamlined, and it was long uncertain whether an accompanying symposium on musicology would take place. Ultimately, the forum went ahead, but in a reduced format.
Star conductor Daniel Barenboim argued that the financial crisis should be used to show how indispensable cultural programming is. The neo-liberal Romanian newspaper "Adevarul" wrote that Barenboim should advise the government: "Because culture and education have been neglected by us for years, we now face spiritual poverty. The mere fact that Barenboim is conducting at the Enescu Festival represents a major victory for us."
Appeals to the government
Romania's largest cultural event will go on with a more slender program, Holender has announced, but without sacrificing quality. The management says it will not tolerate any trade-offs. In 2015, the Berlin Philharmonic and Amsterdam's Royal Concertgebouw Orchestra will play in the "Paris of the East."
In order to maintain the festival's atmosphere, politicians have to be jolted into action, organizers say, citing the importance of cultural programming for the Romanian people - particularly in times of crisis. The constantly sold-out concert halls in Bucharest during the most recent edition of the festival - its 21st - lent support to their view.