Some 500 people gathered at the former border crossing Checkpoint Charlie Sunday to take part in a ceremony commemorating the East Germans who died trying to flee the communist dictatorship.
The crowd watched as initiator Alexandra Hildebrandt from the Checkpoint Charlie Museum and guest of honor Sergei Krushchev unveiled a privately-funded monument, erected along the site where the wall once stood.

"Checkpoint Charlie is the right place for a memorial to (the wall's) victims," said the son of former Soviet leader Nikita Krushchev. "It's a place where Germans can learn from history."
Families of those shot while trying to escape East Germany were among the audience. "(The monument) is for all the mothers and fathers who lost their children to the wall and the border zone," said Ursula Junemann, whose son was killed in 1974.
But to others, the event marked a new chapter in what many see as a cynical exploitation of the city's history.
Commercializing the past?
As the 15th anniversary of the fall of the Berlin Wall approaches on Nov. 9, the once-divided capital has found itself in the throes of what many see as an increasing historical "commercialization."
Controversy surrounding monuments is all too common in Germany. Time and again, lobby groups have been thwarted by political and ideological obstacles impeding the building of monuments to victims of the country's troubled past.
After years of impassioned debate about if and how Germany should honour the 6 million Jews murdered in World War II, architect Peter Eisenman's memorial to the Holocaust victims is finally underway.
The memorial at Checkpoint Charlie didn't entail the same breadth of debate and was approved by the city as an "art" project only, but to many of its critics, its eerily similar in form.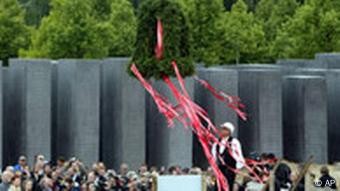 The memorial to the Jews murdered during World War II is being erected in central Berlin
While Eisenman's design (photo) is set to contain an undulating field of 2,700 charcoal-gray concrete slabs, the project on Friedrichstrasse features a 120-meter strip of wall running along side a plot of land dotted with 1,065 crosses, each over two meters (2.2 yards) high.
The Berlin Senate for Urban Planning, one of the project's main detractors, fears that the capital is fast becoming a "Disneyland" version of its former self and insists the wall monument is too reminiscent of the Holocaust project at the Brandenburg Gate. The authority stresses that the East German dictatorship cannot be equated with the atrocities of the Third Reich.
"This is a marketing effort for the Checkpoint Charlie Museum rather than a genuine monument," its spokesperson Manuela Damianakis told AP.
Hildebrandt's project is set to stand until the end of the year, which is when the lease for the land on either side of the Friedrichstrasse runs out. For now, the city government is firmly resolved not to extend the lease.