The batch had been produced in the southwestern province of Sichuan and was found to contain aflatoxin. The Mengniu Dairy Group has said the samples had been taken from milk not yet distributed to the public.
Aflatoxins can be found in milk if cows are fed moldy feed.
After a series of food scandals, the Chinese government has been taking steps to tighten safety.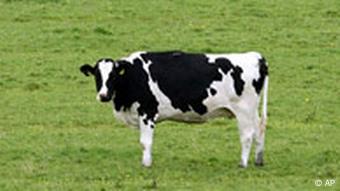 Mengniu says contamination would have been avoided if the cows had eaten fresh grass
In 2008, milk tainted with melamine made ill 300,000 and caused the death of over five infants. The chemical had been added to diluted milk to feign higher protein levels.
Last Friday, a dairy farmer from the northwestern Gansu province received death sentence for lacing milk with nitrite, which killed three small children and made 36 sick. Another farmer was sentenced for life for the same offence.
Author: Sarah Berning (AFP, AP, Reuters)
Editor: Arun Chowdhury