The 400-acre (162-hectare) "Valley Fire" left four firefighters injured Saturday as officials evacuated communities in Lake County, about 100 miles (161 kilometers) north of San Francisco.
California Department of Forestry and Fire Protection (Cal Fire) spokesman Daniel Berlant said the crew had been assigned to a helicopter unit and were building containment lines when the fire reached them. They were flown by helicopter to a burn center, he said, and their condition was not immediately known.
Thousands have been ordered to evacuate surrounding communities.
Butte Fire's devastation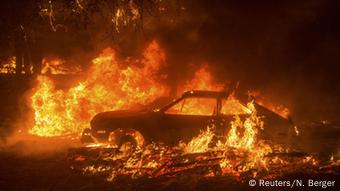 Parked cars burn as the Butte Fire rages near Mountain Ranch, California September 11, 2015
Meanwhile, the "Butte Fire" in the Sierra Nevada mountains has destroyed at least 15 structures and threatens 6,400 homes, as the fire is only 10-percent contained, officials said Saturday.
Sweeping through rural Amador and Calaveras counties, the wildfire covers an estimated 64,728 acres (26,195 hectares), Cal Fire spokeswoman Lynn Tolmachoff said. "There are a lot of homes there, but they're spread pretty far and wide," Tolmachoff said.
Thousands of residents in the area were already required to evacuate on Friday. About 3,300 firefighters are working to contain the fire, which started Wednesday and spread near the former gold mining town of Jackson.
Ancient trees threatened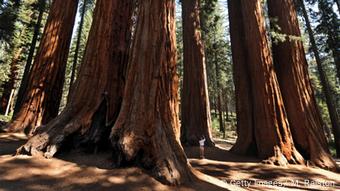 Sequoia redwood trees, distinctly native to California, are the tallest trees on earth. They are also the oldest living things.
A third wildfire dubbed the "Rough Fire" in the central region of the state has caused at least 3,500 evacuations and continues to burn forestland in the Kings Canyon National Park.
Sparked by lighting, the wildfire has already scorched at least 172 square miles (445 square kilometers) and grew by nearly 40 square miles (104 square kilometers) in the last week.
The fire has caused widespread concern as it threatens ancient old growth Sequoia redwood trees. In an effort to save the trees, firefighters have been clearing lines with bulldozers around the Grant Grove and putting up sprinklers.
Firefighters continued to fortify containment lines Saturday, the U.S. Forest Service said.
The grove is named for the towering General Grant tree that stands 268 feet (82 meters) tall. There are dozens of Sequoia groves in the Sierra Nevada, and some trees are 3,000 years old.
But incident command spokesman Jim Schwarber said the ancient trees are naturally flame-resistant and more protected than most trees.
Thousands of firefighters are being deployed and reinforcements are on their way. California is suffering bone-dry conditions following more than four years of drought, which heightens the risk of forest fires.
jar/bw (AP, Reuters)