If Germany's Die Welt newspaper is to be believed, both Jose Manuel Barroso and Trade Commissioner Peter Mandelson accepted trips worth tens of thousands of euros that were paid for by other people.
The daily reported that Barroso and Mandelson admitted as much in a closed-door session -- sans staff and translators --with the commission's 23 other members. The two were pushed to admit to the trips after Nigel Farage, a European parliamentarian, demanded each commission member provide a list of so-called "hospitalities" others provided to them.
Barroso reportedly admitted to taking a cruise worth 20,000 euros ($25,900) with his wife last August on a luxury yacht belonging to an old university friend. His spokeswoman on Monday said he denied any wrongdoing.

"It was outside the framework of his professional functions," Francoise Le Bail told reporters, according to Reuters. The friend, Spiro Latsis, studied together with Barroso, she said. Also along on the trip was a university professor friend. Le Bail said that the trip did not breach European Union rules related to conflict of interest.
"There is not one bit of contact between the Latsis Group and the commission," she said.
Jamaica trip under microscope
That might not hold true for Peter Mandelson (photo). The British trade commissioner told the commission meeting that he had accepted a private trip to Jamaica.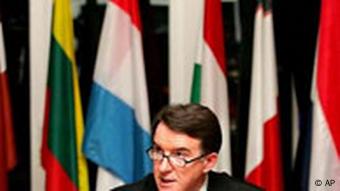 The EU is putting Mandelson's trip under the microscope
Le Bail said the EU was "currently looking at the details."

Mandelson served as the UK's trade and industry secretary in 1998 and Northern Ireland secretary from 1999-2001 under British Prime Minister Tony Blair. He resigned from each cabinet position after being accused of improper financial dealings.
Farage belongs to the EU-skeptical UK Independent Party, which has been campaigning for Britain's withdrawal from the European Union. He is known in the parliament as a fierce opponent of Barroso, once blasting the "breathtaking arrogance" of the Barroso commission's plans to pass the new EU Constitution without ratification of the member states.