"The Braun Family," an unlikely hit comedy by the German public broadcaster ZDF, took home an International Emmy award for the best short form mini-series after the awards were presented on Monday evening in New York.
The series tells the unusual story of two neo-Nazis who are suddenly faced with the odd situation of having a new roommate: a six-year old black girl who is said to have been the result of a one-night stand that one of the men had years earlier. After her mother is deported to Eritrea, the child's father needs to find ways to cope with the new responsibility.
"One has to fight neo-Nazis wherever one can," the series producer, Beatrice Kramm, told the DPA news agency after the win. The series, she said, can reach more people with humor, though it faced the challenge of presenting complex characters in a series of five or six minute-long sketches.
"I'm especially excited that this miniseries has been recognized by such an internationally acclaimed body, as it so bravely and unconventionally takes on the subject of right-wing extremism," said ZDF Program Director Norbert Himmler after learning of the award.
11 winners from eight countries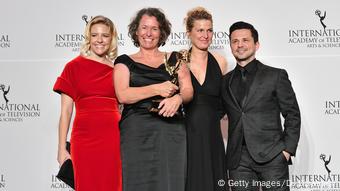 The team behind 'The Brown Family' series
"The Braun Family" was one of just two nominations from Germany in 2017. Actress Sonja Gerhardt was nominated for best actress for her role in the mini-series, "Ku-damm 56." The award, however, went to Anna Friel for her role as Sergeant Marcella Backland in the British series "Marcella."
Kenneth Branagh likewise won Best Actor for his role as Swedish detective Kurt Wallander in the popular BBC drama series "Wallander." Series winners came from around the world: Canada's "Hip-Hop Evolution" took home the prize in the arts category, the UK won in comedy for "Alan Partridge's Scissored Isle," and Norway's "Mammon II" won for Best Drama.
Based on the widely-acclaimed television awards in the US, the Emmys; the International Emmys are presented by the International Academy of Television Arts & Sciences, representing more than 60 countries and 500 countries.
"The International Emmys are like the World Cup of TV," the evening's host, Iranian-American actor Maz Jobrani joked. "(L)ike the World Cup, a lot of Americans don't know it's happening."
ct/ (dpa, afp)