The Colombian FARC's political movement announced the suspension of its campaigning activities on Friday, due to threats and protests that have disrupted various rallies.
Following a peace accord that put an end to its 52-year armed struggle, members of the FARC guerrilla group formed a new political party in 2017.
Read more: Colombia struggles to accept guerrillas' new political role
Despite the negative association with its previous activities, the ex-rebels opted to use the acronym FARC as its political organization's name, changing only the meaning from Revolutionary Armed Forces of Colombia to Common Alternative Revolutionary Force.
FARC candidates have been campaigning for the legislative elections in March and presidential elections in June.
FARC vice presidential candidate Imelda Daza announced that the political events are "temporarily suspended" until the government is able to provide her party with "minimum guarantees" of safety.
"At the very least, we demand respect for our physical integrity and the right to present our ideas," she said.
Protesters at FARC political rallies
At a campaign stop last weekend, the FARC candidate for president, Rodrigo Londono, known by his nom de guerre Timochenko, was confronted by protesters at two separate events who shouted "murderer, terrorist" and pelted him and his vehicle with eggs, tomatoes and plastic bottles.
Senate candidate Ivan Marquez was also forced to cancel an event on Sunday due to the presence of dozens of protesters at the scene.
Jorge Torres Victoria, the head of the FARC political party, said the protests were "coordinated attacks" against his group. He said threats and "widespread messages of hate" on social media are "inciting violence." Torres Victoria said he was confident groups affiliated with rival Centro Democratico, the right-wing rival party of ex-president Alvaro Uribe, were behind the move to threaten FARC candidates.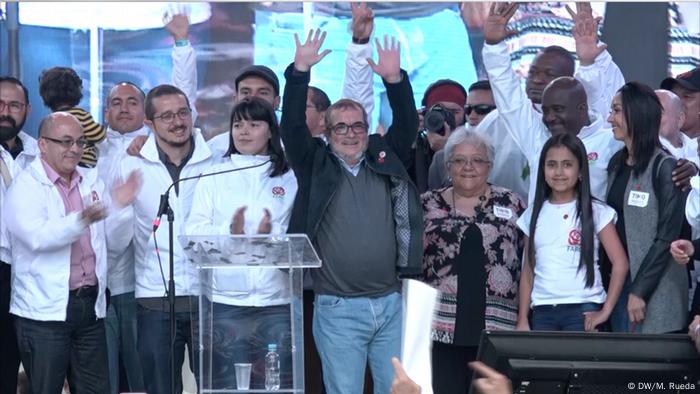 Rodrigo Londono, FARC presidential candidate for the 2018 elections
President Juan Manuel Santos spoke out against the attacks on Thursday.
"I ask that we be tolerant and generous between ourselves. I don't think this is in the interest of democracy and we all must reject these aggressions that some candidates are suffering, especially the FARC candidates," he said.
Santos urged Colombians to protest peacefully.
Most Colombians oppose FARC
Widespread anger at the FARC still lingers in Colombia. The organization is responsible for many kidnappings, bombings and displacements. Much of the population believes that the former guerrilla members should be in prison and not play a role in national politics.
Read more: In Colombia, peace remains elusive one year on
Recent polls give FARC presidential candidate Londono a mere 1 percent approval, despite his campaign platform to fight poverty. Around 80 percent of Colombians reject the group altogether.
jcg/sms (Reuters, AFP, EFE )