George Clooney spent several months in Berlin last year, shooting the fifth film he's directed: "The Monuments Men." The whole city would scream their lungs off every time someone spotted him walking on the street or dining with friends, while the local press would immediately rush out with breaking news.
Such encounters are usually accidental. But now during the Berlin International Film Festival, aka Berlinale, the Adonis of the silver screen actually lets us know when and where he'll be.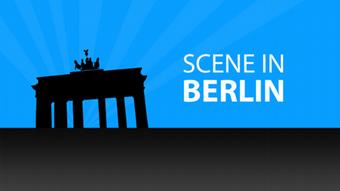 For example, on the red carpet. A huge crowd had gathered in front of the Berlinale Palast more than two hours before the opening gala kicked off, hoping to at least see their favorite stars from a distance, if not grab an autograph or even touch the hem of their sleeve. Some people went so far as to hand out photos of themselves or little presents to the Hollywood VIPs.
Glamour galore
"George! George!" The crowd cheered ecstatically as Clooney arrived. He and his cast for "The Monuments Men" - one of 20 films in the running for a Golden Bear this year - whipped the public into a frenzy. I saw fans coming with wooden boxes and ladders, to be able to catch a glimpse of the celebs, evening gowns, high heels, tuxedos, champagne, and expensive cars.
However, although Clooney is written all over the place right now in Berlin, he hasn't managed to monopolize the red carpet. Fellow actors Matt Damon, Bill Murray, John Goodman and Cate Blanchett were met with similar ovations. Film buffs from all over the world, tourists, bloggers, photographers, journalists, and their mothers are all driven to Berlin by one thing: the VIPs.
"I just wanted to see Bill Murray, and I saw Bill Murray - from like 100 meters," I was told by a proud fan. Two young women had come all the way from Australia to see their favorite actors. "We've been jumping up and down, sitting on each other's shoulders, trying to see everything," they exclaimed.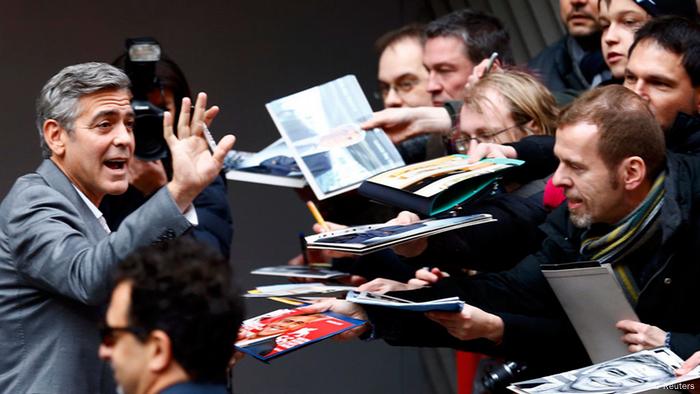 Some people just can't get enough of him
The festival opened last week with Wes Anderson's "The Grand Budapest Hotel," which, of course, brought more VIPs to Berlin: Ralph Fiennes, Willem Dafoe, Tilda Swinton and Adrien Brody. Even more Hollywood stars are due to appear in the German capital during the 11-day event, which concludes on February 16.
It's clear to me that the Berlinale gets bigger and more glamorous every year. It has become the happening in the German capital and some people even say it's becoming more important than Cannes. Here, the talk of the town is all about the celebs, who's who in the film business, who's wearing what, and who came with whom, rather than about the actual movies in competition. Speaking of which, 409 fabulous productions representing different genres, lengths and formats are being shown in 10 sections this year.
Been there, done that
And to demonstrate my theory, here are some of the reasons why the headlines these days are all about the celebrities' favorite restaurants in Berlin, rather than their performance in their latest movie.
Let's put it like this: At the Berlinale, the "been there done that" feeling is important to the journalists, too. Ahead of each screening, there is a press conference, where - seated just a few meters away from the world's hottest stars - even the most object and serious journalist can start to drool. And asking questions that have nothing to do with the movies is part of the star-chasing game.
At the press conference for "The Monuments Men," one of the journalists had a question "especially for Mr. Cooney and Mr. Damon." She had a hangover, she confessed, so how could the two gentlemen look so fresh after a long night of drinking and dining at one of Berlin's fanciest restaurants? Clooney was true to his quick-witted reputation: "We're still drunk!"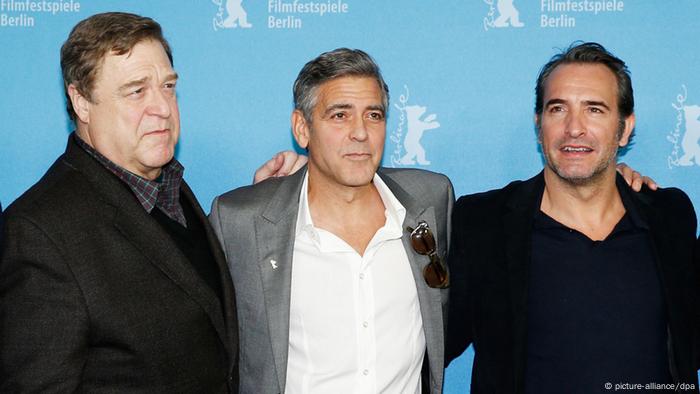 Clooney wasn't the only VIP: He's pictured here with John Goodman (left) and Jean Dujardin
Another Mexican journalist went even further and asked Clooney: "Are you aware that you play the main role in the erotic fantasies of many women in the world?" Clooney's answer, plain and simple, will probably only serve to enrich those women's imaginations in the future. "Well, thank you."
From a distance
Besides VIPs and glamour, sex never ceases to sell. And so has Lars von Trier's uncut version of the first volume of "Nymphomaniac," shown out of competition at the Berlinale. This long-awaited movie, starring Charlotte Gainsbourg, Uma Thurman and Christian Slater, among others, sold out in no time.
I'm not saying that people don't watch the movies. On the contrary. The cinemas are filled all day long throughout the event. The Berlinale is actually the biggest public film festival in the world, attracting about 400,000 visitors. But seeing your favorite actor on the screen does not compare with being able to tell your friends that you had a drink with Clooney. Even if it was just from a distance.