It's an accusation often made when it comes to German movies: they lack a sense of humor, they're difficult to understand, too sophisticated and barely sensual. With around 200 new German movies hitting theaters every year, there are more and more exceptions to this theory. But looking at this year's German movies at the Berlinale film festival, critics who claim German cinema is fraught with meaning - while lacking humor - will feel they have a point.
Festival head Dieter Kosslick invited four German directors to this year's hunt for the bear. After all, a large festival like the Berlinale also has the responsibility to be a forum for German film, which has been neglected in previous decades.
Children without parents
Of the four German movies airing at the Berlinale this year, three have already been previewed by the audience. Edward Berger's "Jack" (pictured above) was first. The movie tells the story of a 10-year old who grows up with his little brother in Berlin. Both children are more or less left on their own. The father doesn't know his children and the mother is never around. But "Jack" is not a movie depicting the lowest social class. It shows the destiny of children who are managing but who've been left to their own devices prematurely.
Berger said he got the idea for the movie when he and his son met a boy like Jack when playing football a couple of years ago.
"I couldn't forget the boy, his pride and his strength with which he embarked on the world deeply impressed me," Berger said. But according to the director, this strength is only superficial. "Behind the curtain it often looks very different," he said, adding that the neglect of children is an important and large topic for society.
Believing in life
Berger's movie impersonally observes Jack's daily life with an almost documentary attitude, while renouncing a superficial social accusation. "We don't want to agitate. For us the main question behind the story is: what can we learn from the boy's strength," Berger said, adding he wanted to tell "a story about believing in life."
Religious drama
Dietrich Brüggemann's movie "Stations of the Cross" (German title: "Kreuzweg") is about religious beliefs. In 14 minimalist chapters, arranged in the Christian Stations of the Cross, the director tells the tragic story of extreme faith. Maria, 14, grows up in a Catholic community that practices old and strict rituals. Maria's mother and the local priest have a large impact on the girl, who's struggling with puberty.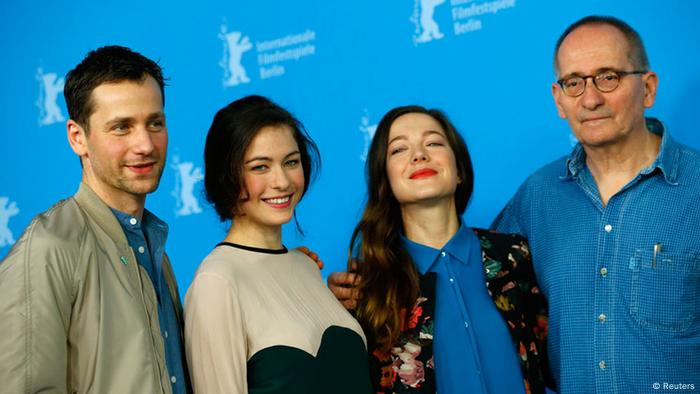 Dominik Graf (r.) and his crew at the Berlinale
Power abuse in families
Believing that she has to sacrifice herself for her terminally ill brother, Maria refuses all food and dies. "The movie has an essence of something that happens in a lot of families, whether they're religious or not," Brüggemann said. "And by that I mean the abuse of power and breaking of a person growing up." However, according to Brüggemann, no one talks about this subtle violence in families.
Anna Brüggemann, who wrote the script together with her brother, added, "When there were all these reports of sexual abuse in schools and boarding schools, we thought that a strict religious upbringing also posed some sort of mental abuse." And that's exactly what interested the directors.
"The topic of radical practice of religion can be found everywhere," Dietrich Brüggemann said. "You can, for instance, read about the radicalization Islam all the time."
The movie doesn't directly name the Society of St. Pius X, an international traditionalist Catholic organization. After all, for the two Brüggemanns it's about a broader outlook. "The Pius brothers mentioned in the movie are more of a secluded phenomenon. At the same time they are very central to the Catholic Church because they pose the question to this large world religion: how do you want to be? We are doing what you've always been doing."
Schiller's ménage-à-trois
The Berlinale audience was almost able to relax when the third German movie aired, which is quite an achievement given that "Beloved Sisters" (German title: "Die geliebten Schwestern") is almost three hours long. In the movie, director Dominik Graf portrays scenes from German poet Friedrich Schiller's life. Schiller's relationship to the sisters Caroline von Beulwith and Charlotte von Lengefeld provided plenty of food for gossip at the end of the 18th century during the cultural and literary movement Weimar Classicism.
Words and letters
Graf doesn't portray Schiller as a romancing hero ,but rather as a sensitive contemporary who's suffering from love. The movie is mainly based on letters. "The main characters in the movie are words," Graf said. "It's about how feelings are discusses and written." What tempted Graf is to make a movie about words - words of love, promises and the happy longing for a different bourgeois life.
An authentic social study from Berlin, a religious drama from a German province and a buoyantly staged episode from the classic times - the three German movies that have already aired at this year's Berlinale could not have been more different. On the one hand they represent the great range of German film. On the other hand, they represent the tendency of German film to focus on difficult and voluminous topics. One thing is for sure: it won't be easy for these hard-hitting movies to hold their ground in the daily life of cinema.