After a year of scrutiny and debate over the actions of the German military command in the so-called 'Kunduz affair,' the first charges have been pressed against the government on behalf of one of the victims.
On September 4, 2009, German Col. Georg Klein gave the order for an air strike in Afghanistan on two tankers that had been hijacked by the Taliban. The strike was carried out by US jets and in the attack 142 people were killed, including many civilians.
In the following months of investigation, German prosecutors dropped proceedings against Klein, finding that neither he nor any of the other officers were in a position to know that civilians were present at the time of the attack.
On Saturday, September 4, however, Berlin lawyers Andreas Schulz and Markus Goldbach announced the legal challenge on behalf of one of the drivers of the tankers. The driver was one of those kidnapped by the Taliban and was injured in the US bombing, but survived.
The lawyers said their client is suing the German Ministry of Defense because of his need for permanent medical care and pain relief.
Compensation for victims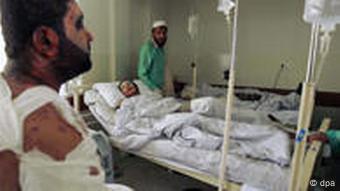 Those who survived the blast received care at Kabul hospital
The German government has so far paid out compensation to 86 victims' families, at a rate of $5,000 (3900 euros) per family.
Lawyers representing the victims had initially demanded far higher compensation, in some cases as high as 28,000 euros per person. The compensation is officially being branded as "humanitarian aid" to avoid legal disputes.
In a statement on Friday, the government said it considered the Kunduz air strike affair to be largely over.
"What the government needed to do, has been done" said government spokesperson Christoph Steegmans.
The incident led to a political storm in Germany, claiming the jobs of the former minister of defense, Franz Josef Jung, and Germany's top military officer, Wolfgang Schneiderhan.
Author: Catherine Bolsover (AFP/Reuters)
Editor: Toma Tasovac