It is being described by its organizers as a "belief party," and "THE Christian event of the year." The "Christival," which runs until Sunday, has brought some 16,000 people between 16 and 26 from across Germany to the city of Bremen.
But while Germany's other big church get-togethers -- the Protestants and Catholics hold them regularly -- are mostly feel-good events with singing and praying accompanied by a fair amount of media coverage, the Christival event this year kicked off with a very different tenor and got some press it didn't anticipate.
During the opening on Wednesday (Apr. 30), some 100 masked demonstrators hurled Molotov cocktails and attempted to storm the stage. Hundreds of others took part in a protest march. The event's Internet site was also forced offline for a while because of hacker attacks.
The protests were sparked by planned seminars over homosexuality and abortion which were critical of both. While the seminars' stances were in line with the conservative line of the festival organizers, it did not, according to many protesters, fit in with modern German society.
Christival chairman Roland Werner said he was saddened by the disruptive acts. But, halfway through the event, he said the event had been positive over all. "We are living the motto of the festival: 'Jesus moves you,'" he said.
Anti-abortion and anti-homosexual?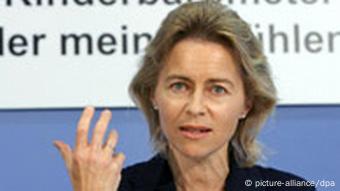 The family minister is the patron of this disputed event
At the beginning of the year, Christival came under fire for a planned seminar entitled "Understanding Homosexuality -- A Chance to Change". According to jesus.de, Werner "used to believe he was homosexual," but was now "happily married to his wife."
The seminar never took place. Deputy Family Minister Hermann Kues said it was cancelled on the prompting of the ministry. Werner said it was his decision. The controversy had made it impossible to hold a proper discussion, according to the Christival chairman.
Gay Green parliamentarian Volker Beck had brought up issue for discussion in the Bundestag because of the German Family Ministry's links to the event. The event in Bremen has received 250,000 euros in public funding and Family Minister Ursula von der Leyen is its patron.
A seminar planned for Saturday (May 3) is continuing to stir up anger. The event -- called "Sex is God's Idea - Abortion, Too?" -- is being staged by pro-life group "Die Birke," which rejects abortion even in the case of rape.
The head of the Protestant Church in Germany, Wolfgang Huber, defended the festival from the criticism. He said on Friday, May 2, one should not "reduce Christival to the two topics of homosexuality and conflicts over pregnancy." On Friday evening, he will take communion with the festival's participants.