The United Nations' heritage body, UNESCO, on Wednesday added Belgium's beer culture to its coveted list of the "Intangible Cultural Heritage of Humanity."
The history of Belgium beer stretches back to at least the 12th century and the age of the first crusades. Artisanal brewing methods have not stopped evolving since - from brown ales, and golden lagers to trappist brews produced in monasteries. Today some 1,500 different kinds of beer are produced in just about every city and village across the country. Almost every national dish is accompanied by a tall glass of beer, while Belgium is also home to some 30 brewing museums.
Ahead of the nomination Brussels regional leader Rudi Vervoort summed up the rich history of Belgian beer, saying that it "has been a part of our society since time immemorial."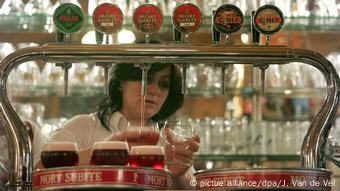 Belgium's 200 breweries, produce 1,500 types of beer
However, UNESCO was forced to firmly stand by the nomination. At a time when alcohol abuse is becoming an increasing global concern, the heritage body said its recognition of Belgian beer was about more than just drinking. "Beer is also used by communities for cooking, producing products like beer-washed cheese, and paired with food," it said in a statement.
UNESCO also said that beer brewing had fostered a unified identity in a country often divided along linguistic lines.
Its inclusion on the UNESCO list confers an obligation on the state to safeguard the tradition. The state is also allowed to apply for financial assistance in doing so.
Beer in Belgium is not just underpinned by history and tradition. This year, in a show of keeping with the times, brewer Brugse Zot built a beer pipeline out of the medieval centre of Bruges to a bottling factory on the outskirts. The innovation addressed worries voiced by locals concerning the environment and the preservation of Bruges' architecture.
Sven Gatz, who went from leading the Belgian Brewers Federation to becoming Cultural Minister for the Flanders region, likened the recognition to the Belgium national football team winning the World Cup.
"We love our beer and appreciate the endless diversity within it, something that can't be equaled anywhere else in the world," Gatz told the Associated Press (AP) news agency. "In Belgium, beer doesn't have to give way to wine or other drinks in terms of quality and diversity."
Celebrating and protecting cultural heritage
The UN's "Intangible Cultural Heritage of Humanity" list was created in 2008 to recognize traditional events, ritual and social practices that have been passed down through generations and foster a sense of identity.
Alongside Belgian beer, UNESCO also this year gave the nod to the Cuban rumba dance and Mangal Shobhajatra festival in Bangladesh, a Bengali New Year celebration. They join iconic cultural traditions, such as French gastronomy and Argentina's tango.
The list of nominations was drawn during a meeting in the Ethiopian capital of Addis Ababa. It will wind up its review of the nominations on Thursday.
dm/mm (Reuters, AP, AFP)