During his broadcast, the Venezuelan leader criticized Merkel for belonging to the conservative Christian Democratic Union, calling her party "the same right wing that supported Hitler and fascism."
Chavez was on the verge of launching further insults, but suddenly stopped short, saying he would spare the chancellor, because she was a lady.
Chavez's remarks came after Merkel voiced her own criticism of the South American leader's policies, in which she said that the left-wing leader was not the voice of the region.
Merkel, speaking to the German news agency DPA ahead of the European Union-Latin American summit, indicated that leftist policies pursued by leaders like Chavez were not the answer.
Pointing to the emergence of "left wing populism" in some of the nations of Latin America, Merkel said: "Based on our experience in Europe, I don't believe that state-guided economies can provide a better or more sustainable response to such pressing problems."
Chavez angry over "empty promises"
Chavez replied that he would answer Merkel at the summit if he chooses to attend.
"Many people want you to shut up. But if I fly to Lima and I say something to her and she gets upset, she would then stand up and say 'why don't you shut up?'" Chavez opined, referring to a controversial moment last year that set off a diplomatic spat between Venezuela and Spain.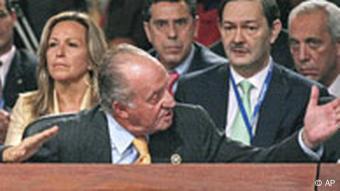 At last year's Iberian American Summit, things got ugly between Chavez and Spanish King Juan Carlos
Spanish Prime Minister Jose Luis Rodriguez Zapatero criticized Chavez at the Iberian American Summit in November for calling his predecessor Jose Maria Aznar a "fascist" who favored the failed coup in Venezuela in 2002, sparking an outburst that ended with Spanish King Juan Carlos shouting, "Why don't you shut up?" at Chavez.
On Sunday, Chavez said the region could do without empty offers of help from the United States and Europe.
The Europeans "come here to help us. Where is their plan to help the poor? Ask the president of Haiti how much promises from Europe and the United States have done," Chavez said, stressing the region's social programs would be carried by Venezuela, Cuba, Argentina and Brazil.
Berlin brushes comments aside
The German government brushed off the verbal onslaught, with spokesman Thomas Steg saying only that Merkel was looking forward to participating in the fifth European Union-Latin American and Caribbean Summit (EU-LAC) to be held on Friday and Saturday in Lima.
Merkel sets off on her first Latin American tour on Tuesday. Her agenda includes stops in Brazil, Peru, Colombia and Mexico.