Roof was convicted on Thursday by a federal jury of all 33 counts in the racially motivated slaughter of nine black members of the church congregation in the US city of Charleston.
The jury took less than two hours to reach its verdict on the self-described white supremacist, who could now face the death penalty.The penalty phase of Roof's trial is set to begin on January 3.
The 22-year-old was found guilty of hate crimes resulting in death, hate crimes involving an attempt to kill, and weapons charges, among others.
Roof said in a taped confession that he carried out the attack at the Emanuel African Methodist Episcopal Church on June 17 2015 in retaliation for alleged crimes committed by black people against whites.
He showed no emotion as the verdicts were read, tweeted journalist Abigail Darlington from the "Post and Courier" newspaper.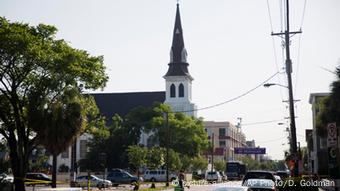 Roof targeted a historic church in the city of Charleston
Massacre shocked the nation
The jury rendered its verdict after hearing six days of testimony. Roof's defense lawyers, hoping to spare him from execution, asked jurors to consider what factors had driven Roof to commit the senseless act and suggested he might be delusional. The defense was blocked from presenting evidence of Roof's mental state during the guilt phase of the trial.
Prosecutors used their closing arguments on Thursday to insist that Roof's guilt had been proven "beyond any doubt, much less reasonable doubt."
"He must be held accountable for each and every action he took inside that church," Assistant US Attorney Nathan Williams said. "For every life he took."
Roof is also facing state murder charges in South Carolina; though that trial is not due to begin until January 17. State prosecutors also are seeking the death penalty.
mm/rc (AFP, AP, Reuters)