Despite some notable successes, including the recent return of a Romanian fortress known as Dracula's castle to a descendant of the Habsburg dynasty that once ruled Austria-Hungary, aristocrats often see their ambitions to get ancestral property back thwarted by lengthy legal wrangling, vested interests or hostile public opinion.
In Poland, 16 years after the end of communism, blue-blooded claimants whom the state once regarded as class enemies are still waiting for a restitution law that would allow them to recover their ancestral fortunes.
Poland is the only post-communist country in the region that has not passed a restitution or compensation law to redress the "plunder perpetrated by the state on its citizens," according to Miroslaw Szypowski, president of the Polish Union of Property Owners.
But some aristocrats are not deterred.
Palace-turned-embassy
In early July, Duke Albert Czetwertynski, his family and dozens of supporters staged an angry demonstration in front of the United States embassy in Warsaw, demanding the return of a site they claim was stolen from them.
The plot of land in the heart of the Polish capital that now houses the embassy once boasted a 19th-century palace belonging to the Czetwertynskis.
It was torn down in the 1950s after the communist authorities arrested Czetwertynski's father, accused him of spying for America and confiscated his property. The site was then acquired by the United States.
According to Szypowski, less than 40 percent of the Polish public are in favor of re-privatizing nationalized property, down from 60 to 75 percent in the early 1990s.
While claimants from prosperous middle class families find it tough to regain previous possessions, for aristocrats it's even harder, Szypowski said.
"People say, 'Why should property be returned to some count who lives in a palace, while we live in an apartment measuring 30 square meters (320 square feet),'" he added.
Dracula's castle
The only way Polish claimants can regain former belongings is to prove the communists seized property in violation of laws in force at the time, which allowed land holdings larger than 50 hectares (125 acres) to be nationalized, Szypowski said.
"But that's difficult," he said. "There were not many such cases."
In Romania, 90 percent of some 128,000 attempts at claiming back confiscated property have failed to produce results so far. But some strike it lucky.
One famous case is Bran Castle, a brooding fortress known popularly as Dracula's castle through association with the fictitious vampire.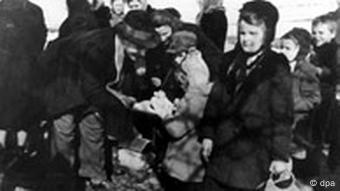 Many Germans lost their homes in Poland and the Czech Republic
In May, 58 years after communist rulers confiscated it, the castle -- one of the country's biggest tourist money-spinners -- was restored to its rightful owner, New York architect Dominic von Habsburg, the 68-year-old grandson of former Queen Marie of Romania and son of the Habsburg dynasty scion Anton, Archduke of Austria.
"It is with great emotion that I find myself again at this castle of my childhood," Habsburg told people at a ceremony in Bran, recalling his flight nearly six decades earlier when his family was driven out by the communists. "I have never been back to Romania since, till now."
Some compensation
In neighboring Bulgaria, former monarch Simeon Saxe-Coburg, who fled his homeland as a child in 1946 after communists took over and who returned from exile five years ago to become prime minister from 2001 to 2005, now lives in Vrania Palace in Sofia.
He is a beneficiary of a decision by the constitutional court in 1998, allowing restitution of nationalized royal property.
Hungary, meanwhile, in 1991 became the first post-communist country in the region to pass laws on partial compensation for expropriated property, according to the state compensation agency.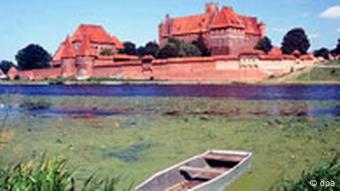 Some artistocratic homes reverted to the state after they were almost detroyed in the war
There were 817,811 claims submitted for compensation of property taken away during communism, and 58.5 billion forints (207 million euros, $66 million) was paid out, followed by a second wave of pay-outs in 1994.
In the Czech Republic, Argentinian-born Frantisek Oldrich Kinsky has since 2003 been pressing around 150 separate legal demands for the return of his noble family's estates and property, many of them cultural landmarks.
But Czech claimants also face complications. Cases involving aristocrats are often tangled up with controversial decrees passed in 1946 under which some three million ethnic Germans were expelled from Czechoslovakia and had their property seized.
Many blue-blooded dynasties who owned property here have German branches in their family trees.
Families frequently try to prove estates were wrongly confiscated because they were Czechoslovak citizens, or that they opposed the country's wartime Nazi occupiers -- which would make them exempt from the never-repealed decrees.