Regulating the global shipping industry, it seems, is about as easy as getting a 180,000-ton container ship to slow down by tugging on one of its mooring ropes. But that hasn't kept people from trying.
Many observers of the historic deal hammered out in Paris last year to mitigate global warming were dismayed when any reference to the maritime transport industry, which accounts for roughly 3 percent of global CO2 emissions, was suddenly dropped.
The absence of the shipping sector in a final deal was an elephant in the room, climate advocates said. Some even went so far as to don elephant masks while protesting close to where the talks were being held.
But a number of industry insiders attending the International Transport Forum (ITF) in Leipzig this week say the pressure is still very much on regulators within the shipping industry to fashion some new policy to lower the sector's carbon footprint.
"Nobody's forgotten the fact that we didn't get a decision," Anna Larsson, global head of sustainability at Wallenius Wilhelmsen Logistics, one of the world's largest transporters of automobiles and heavy machinery, told DW. "It's quite clear that the pressure's still on."
A shift in public opinion
One concern being voiced in Leipzig is that if international regulations aren't imposed under the auspices of the International Maritime Organization (IMO), the United Nations agency that oversees maritime transport, then shipping companies could quickly become pariahs in the public eye.
That kind of shift in public opinion, if strong enough, could embolden policymakers on a national or regional level to come up with their own sets of rules applying to the waters around their coastlines. Ultimately, that could lead to a patchwork of regulations around the world that could potentially give polluters an unfair competitive advantage over companies that pay to reduce their emissions.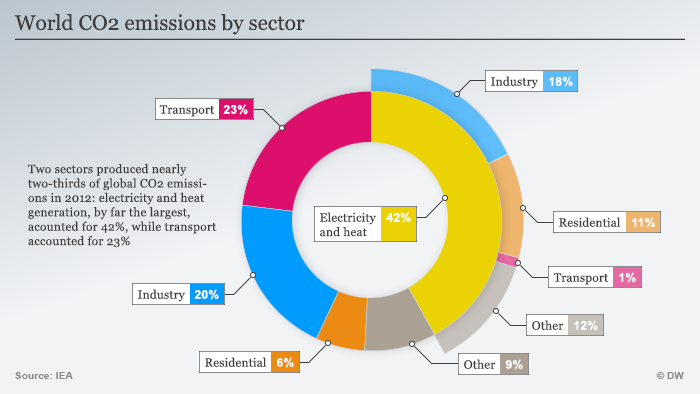 "The IMO and shipping nations really have to show something considerable this year. If not, I think they will be held up to ridicule by a lot of these environmental NGOs and maybe the population at large," Olaf Merk, an expert on ports and shipping at the ITF, told DW.
Many saw this year's transport forum as an opportunity for the IMO's secretary general, Kitack Lim, to reassure attendees that his organization would come up with an action plan by the end of the year. But Lim made no statements to that effect.
Little reassurance
During a podium discussion and in an interview with DW afterward, the secretary general reiterated the progress his organization had made in the last few years towards making new ships more energy-efficient and in imposing mandatory fuel monitoring. But he was more cautious when talking about the future.
"There are many different kinds of action we can choose," Lim told DW. "We have listed many, but don't know which are the most urgent."
Information on the IMO's website is similarly vague. Touting new rules for data collection that the organization agreed to in April, one page reads: "This would allow a decision to be made on whether any further measures are needed to enhance energy efficiency and address greenhouse gas emissions from international shipping. If so, proposed policy options would then be considered."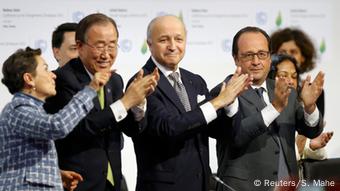 Many heralded last year's climate accord, while others lamented its oversights
For some observers, that sounds like business as usual: Agree to collect data and analyze it before there is talk of any real change.
To be sure, the IMO is dependent on consensus among its member states – many of which were signees of the Paris COP21 agreement – to push through any new regulations. The problem, it seems, is that some countries want emissions reform more than others.
"You would maybe think, given that it's the same countries who signed the Paris agreement that actually sit in the IMO as well, that that should reflect a more progressive stance," Larsson said. "But unfortunately there are still some countries who are more concerned about short-term costs."