Hamburg-based shipping giant Hapag-Lloyd announced Friday that it would join in an alliance with five counterparts from Asia, in a move that would consolidate their overall operations and extend and enhance their global coverage.
The other companies entering into "THE Alliance," as it as been named, include Hanjin from South Korea, Yang Ming from Taiwan, and three from Japan - K Line, Mitsui O.S.K. Lines and Nippon Zusen Kaisha.
A joint statement declared the move a "milestone" that would allow each member to improve its departures, connections and, as a result, transit times.
Together, THE Alliance makes up a fleet of over 620 ships, representing 18percent of the world's container fleet capacity, Hapag-Lloyd said. The partnership will cover "all East-West trade lanes."
Cooperation between THE Alliance partners will begin in April 2017 - if competition authorities allow - and is slated to last five years.
Rough waters
Hapag-Lloyd had reported a first-quarter loss of 43 million euros ($48.7 million).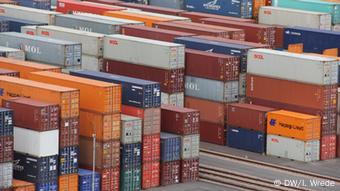 Overcapacity is plaguing the shipping industry as import demand sags
The industry is grappling with overcapacity and falling rates due to dropping global commodity demand, factors which favor economies of scale.
Hapag-Llyod is deep in talks with the United Arab Shipping Company (UASC) over a possible fusion, which would bring it nearer to the world's largest shipping companies.
"If UASC is added, Hapag-Lloyd is within striking distance of the others," said Thomas Wybierek, an industry expert from NordLB.
jtm/hg (AFP, Reuters)