Hundreds of youths have assembled at Nkolbison, a neighborhood in Cameroon's capital Yaounde. Kennedy Fonsah, president of the union of commercial motorcycle riders, says whenever there is an event promoted by President Paul Biya's ruling Cameroon People's Democratic Movement (CPDM) party, he is tasked to bring in as many supporters as possible.
"They give away T-shirts, 1,000 ($1.77, €1.52) or 2,000 CFA francs to buy rice. They give them money, they give them drinks," Fonsah told DW. "You see the mobilization and you think there are people behind the party. But they are motivated by money and material issues," Fonsah said.
To mark Biya's 35 years in office, thousands of people were transported to various CPDM party houses and ceremonial grounds to celebrate his rise to power. Besides singing and dancing, statements were read out hailing Biya as the savior of Cameroon.
Should Biya go or stay in power?
Among the speakers lauding the president was Joachim Tabi Owono, a former presidential candidate who now supports Biya. "President Paul Biya has got the mandate of the people. Now some people are saying that President Paul Biya should go. That he should give independence to some people," Tabi Owono said, alluding to the Anglophone secessionist movement in the country. "Did President Paul Biya colonize this country? Did he colonize parts of Cameroon? Why then are people asking him to grant independence and freedom? When President Paul Biya wins elections, losers should shut up and support him. He should at least be respected because he has the mandate of the people and elections are coming up next year," the politician said.
Biya, who has ruled Cameroon since November 1982, is the longest-serving sub-Saharan African president after Zimbabwe's Robert Mugabe. He was prime minister for seven years starting in 1975, and became president following the resignation of founding president, Ahmadou Ahidjo. In 2008, Biya revised the 1996 constitution to remove presidential term limits, allowing him to run for the 2011 election which he went on to win.
A deplorable human rights situation
Biya's close collaborator and a former minister in his government, Elvis Ngolle Ngolle, said the president's long stay has been good for the country. "All Cameroonians appreciate the value, the sanctity of the human rights of all citizens no matter who they may be. All Cameroonians enjoy democratic freedom," Ngolle Ngolle said, adding: "There is a multiparty system and there are regular democratic elections from which no one is excluded. Cameroon has really advanced to the extent that the independence, the fairness, the credibility of elections has really improved in 35 years. We should be proud of that."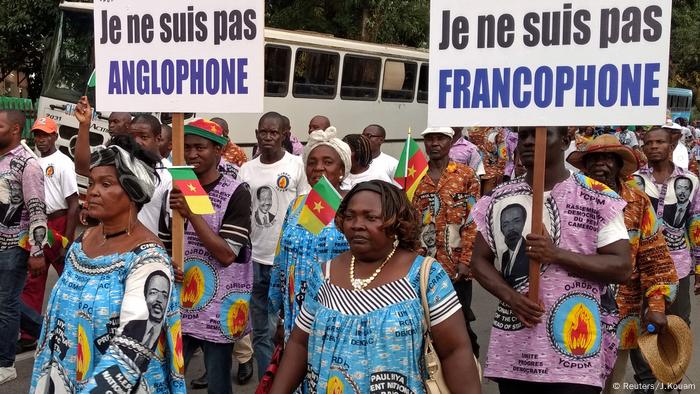 Demonstrators protesting against Anglophone secession efforts
Unimpressed by what the CPDM presents as positive achievements, some political groups, including the main opposition party Social Democratic Front (SDF), have been calling on Biya not to seek re-election in the upcoming 2018 presidential election. SDF spokesman Dennis Kemlemo is one of the president's critics. "The deplorable human rights situation in the northwest and southwest regions following the massive and brutal repressions by the military and the forces of law and order, the killings, the maiming, massive arrests and abductions at the instigation of the Biya junta, have been unprecedented in the history of our nation," Kemlemo told DW.
A day of mourning
"This is evidence of a weak and dying regime on the verge of collapse that has resolved to annihilate the lives of the citizens. This genocide must be stopped," the opposition politician said. According to Kemlemo, it is rare to have the type of politically motivated deaths registered under the 35-year-old regime in a country which is not at war. For him, the Biya era will go down in the country's history as the "deadliest and bloodiest."
34-year-old Elvis Ndansi, political bureau member of the opposition National Union for Democracy and Progress (NUDP) and former youth president of the party, says he regrets that since he was born he has only ever known one leader. "I hear my comrades all over Africa celebrate when a new president comes into power. Some have celebrated three, some have celebrated two, but in Cameroon we have seen just one person. 35 years of pain."
Ndansi accuses Biya of being responsible for rampant corruption and one of the highest levels of youth unemployment on the continent. "How can it be that we can be celebrating 35 years of a monster, when in the 21st century we still have women who cannot deliver their babies safely in safe facilities because of a lack of hospitals or hospital personnel? How can we be celebrating 35 years of misery? This is a day of mourning."