Hundreds of youths on Monday quietly marched to the Cameroonian Ministry of Posts and Telecommunications to ask the government to reinstate internet connection in the English-speaking northwest and southwest regions. 21-year-old Ruth Tamassang, one of the protesters and a student at the university of Bamenda, told DW, the internet blackout had forced her to move to the capital Yaounde where she can do her research in preparation for her examination. "Now we live in a world that is changing, a world of news." You have to know what is happening," Tamassang said.
"Internet is like the air I breathe. When one day passes without me having internet, it is just like I am ill, I am dead. I don't like it really," Tamassang added.
Giles Formusoh, 22, said the internet blackout that started on January 17 is having a serious impact in the affected regions. "It is really, really pathetic," Formusoh said. "I have a cousin who was in a very difficult situation and we could not get to him because of the [internet] blackout," Formusoh said. According to Formusoh, it has become difficult to conduct research, look for new avenues or for training workshops as well as search for international scholarships. "The internet would help me to better research for my work."
Struggling startups
"Money is being lost, some of us can't work with foreign clients because of the cut in internet service. It's disruptive to everyone," Churchill Mambe, owner of Njorku, an employment and hotel services company told AFP news agency. Forbes Magazine recently listed Njorku among the top 20 African startups.
Cameroon's English-speakers account for more than a fifth of the country's 23 million people
To access the internet, Churchill had to relocate his offices to Bonako where many startups reeling from the internet shutdown have created an 'internet refugee camp'. Around five new startups were coming up each month in Buea, capital of the southwest region before the internet disruption.
A campaign under the hashtag #Bringbackourinternet was launched by activists of free speech in a bid to put pressure on the government. At the end of last month, Yaounde reluctantly accepted responsibility. "There are unpleasant situations for which some decisions have been made," Telecommunications Minister Minette Libom Li Likeng said. According to reports in the local press, the minister promised that internet service would resume soon everywhere.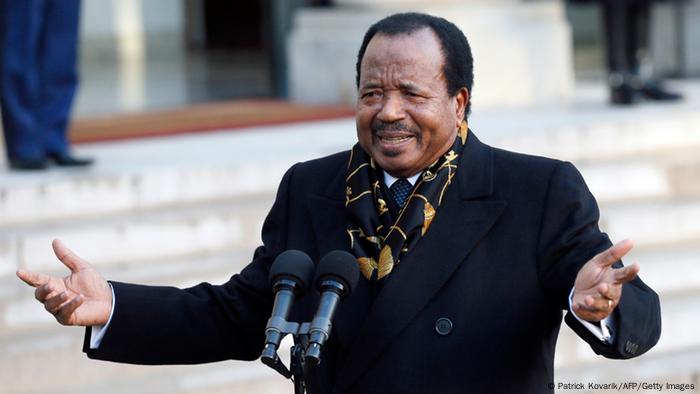 Cameroon's President Paul Biya has ruled out any talks of secession by Anglophone Cameroon
Cameroon's economy has lost nearly 3 million euros ($3.1 million) as a result of the internet blackout according to French NGO, Internet sans Frontieres (Internet without Borders). The organization said since 2015, there has been a rise in the use of internet blackouts as a means of stifling opposition by French-speaking African governments.
"DNS Error" (can not find server)
In January, four internet providers in Cameroon including France's Orange and South Africa's MTN told their subscribers that internet connectivity was no longer available due to "reasons outside of (our) control".
Tensions between President Paul Biya's government and the English-speaking minority in the northwest and southwest regions erupted last November when a group of lawyers and teachers demanded reforms. The protests quickly attracted other activists who have long complained of marginalization and discrimination. Some have called for the creation of a separate state.
In January, protests in the English-speaking regions brought several cities to a standstill. Biya's regime responded to the demonstrations by deploying security forces, arresting some opposition leaders and shutting down the internet. Some of the protesters accused of being behind the social unrest are facing trial at a military court.