In the migrant village of Tong Kha Men deep in the forest of Phang Gna Province in southern Thailand - an area renowned for its rubber plantations - local families have gathered to watch a film crew at work.
There are chickens running around and small dogs scavenging; there is an open stream nearby. Children, teenagers and adults look on as the actors re-enact scenes from their everyday lives.
An average family here earns less than $20 a day. The homes are simple with dirt floors covered by matting and corrugated iron roofs.
Some 100,000 Burmese workers live in the province. Often they do not have documents. They have a tough time ensuring employment security as well as education and healthcare for their families.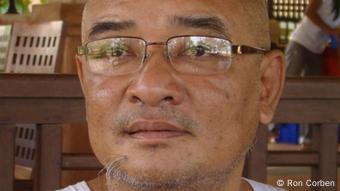 Zarganar has served four prison terms for dissent
Campaigning for basic rights
Moreover, many migrant workers from Myanmar were killed by the 2004 Indian Ocean tsunami and dozens of children were orphaned. The Foundation for Education and Development was set up shortly afterwards to assist them.
"Every day, the Burmese worker faces violence," says Htoo Chit, the president of the foundation, which campaigns for labor rights and better health care. He initiated the film project to raise awareness about migrant workers.
"In our Burma, the Burmese people didn't know about the migrant workers and their children's real life in Phangna or Mae Sot and everywhere else," he tells DW. "In Yangon or in Mandalay they don't know the people, people don't know."
Htoo Chit sent a series of short stories to the famous Burmese comedian Zarganar, who was recently released from a fourth term in prison for political dissent after being sentenced to a 35-year jail term for criticizing the poor assistance to victims of Cyclone Nargis that claimed almost 140,000 lives in 2008.
Zarganar called on Burmese film director, Min Htin Ko Ko Gyi, to oversee the film's production, and brought in leading Burmese actors Ye Deight and Chit Thu Wai.
Raising awareness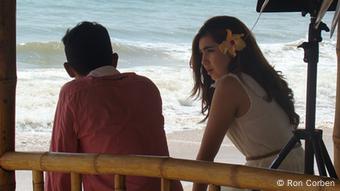 Ye Deight and Chit Thu Wai volunteered their services
In "Father's House, a place of security," Ye Deight's character travels to Thailand in search of work and is confronted with the harsh realities of a migrant worker's life. Chit Thu Wai, who plays a teacher at the Foundation for Education and Development's school, comes to his aid and a romance blossoms.
Ye Deight and Chit Thu Wai volunteered their services for the film. They are saddened as they see how poorly their compatriots live.
A mother proudly shows the actress a headlight that enables her to work in the pre-dawn hours to tap rubber.
"How can I solve these problems?" Chit Thu Wai asks. "I don't want to see them this way. Our people living and working here in Thailand have no rights."
"That's the main problem. There is nobody to protect them. I would like to give them health and education. I'm worried about them."

Producer Min Htin Ko Ko Gyi says the project has opened his eyes - he did not know about the "real situation" before reading the screenplay. He says he wants to make a genuine impact on people's lives. "I hope that people - Burmese people from around the world - will know the real situation of the Burmese people in southern Thailand."
"The film format is easier to understand because people can see the faces of the people," explains Mallika Ketthaison from the Foundation for Education and Development. "People in Burma will understand more why people move to Thailand."
Aung San Suu Kyi meets migrants
On Wednesday, pro-democracy icon Aung San Suu Kyi met her compatriots at the Migrant Worker Rights Network in Samut Sakhon province, where many migrants work in the fisheries industry, as part of her first trip abroad in over 24 years.
"Her main recommendation was to ask permission from Thailand to open learning centers for migrants," said Andy Hall from Thailand's Mahidol University.
"Don't feel down, or weak. History is always changing," she told a crowd of thousands, promising to do her best for them.
According to official figures, of the two million migrant workers in Thailand, some 80 percent are thought to be from Myanmar. Unofficially, there could be up to a million unregistered migrant workers.
Author: Ron Corben (dpa, AP)
Editor: Anne Thomas