Germany's Bundesliga clubs earned almost 2.1 billion euros ($2.7 billion) during the 2011/2012 season. That's a new record, with ticket sales alone generating 440 million euros in income. But for their favorite teams, genuine fans were willing to dig even deeper in their pockets. They bought fan merchandise worth close to 170 million euros this season.
Whether it's a scarf or a 120-euro gown in the colors of the beloved club, Bundesliga clubs offer a broad variety of articles. The new German first-division champion, Bayern Munich, sold fan merchandise to the tune of 57 million euros - more than any other team.
But after winning two back-to-back national championships in the two years before, Borussia Dortmund (BVB) have caught up quite a bit. The team that will play Bayern Munich in the Champion League final in London on May 25 logged revenues of 30 million euros from the sale of fan merchandise. According to Marketing Director Carsten Kramer, that's 10 million euros more than a year earlier. "We have double-digit yields," Kramer commented.
Jerseys a sales hit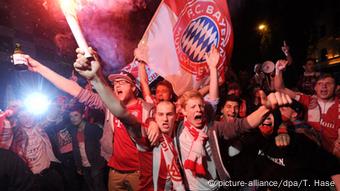 FC Bayern fans in full regalia
Dortmund has almost 1,000 different articles in its store, including bed sheets and romper suits. But the hottest-selling item is the black-and-yellow jersey, with more than 300,000 sold at 75 euros apiece. Diehard fans are keen to buy both versions - the jersey for home matches and the one for away games.
Soccer is an economic juggernaut. Bochum University professor Jan Wieseke says it's no big wonder that people are ready to spend a lot of money on it. "That's because it symbolizes a sense of togetherness and belonging to a given team which is perceived as a value in itself," he said..
Club logo on toast
To show their affinity, fans can also buy a toaster for 30 euros. The item has been selling very well. The toaster, in black and yellow, has the added attraction of giving you slices of bread with Dortmund's team logo burnt into them.
But you could also opt for corresponding egg cups, coffee cups, or dog dishes for your four-legged family members. Or you can buy mustard to go with BVB bratwurst and beer. "People buy it and it seems to be tasty," Kramer said..
Female customers a growing force
Bundesliga clubs have also discovered female fans and their purchasing power for fan merchandise. After all, the number of female spectators has doubled to 14 million within just a few years. That's why FC Schalke offers nail polish in the typical blue color of the Bundesliga team, while FC Bayern have a red triangle bikini on offer. 26 percent of the merchandise is actually bought by female fans.
BVB Manager Carsten Kramer sees a need to produce items for the very young, too. That's why Borussia Dortmund will be selling a black-and-yellow rocking horse as of next season for kids aged three or younger. Actually, it's not really a horse, but a bee called "Emma", the team's mascot.
Marketing scientist Jan Wieseke says all-in-all Bundesliga clubs have a good nose for marketing their fan merchandise and luring the various target groups with attractive offers. The diehards get their caps and scarves, while others go for beautiful silk neck ties, or cuff links with the club logo. When it comes to what exactly to sell, the sky's the limit for Bundesliga teams.