As a realist painter, Lucian Freud's nudes and self-portraits depicted the wrinkles and imperfections of humanity.
Considered to be one of Britain's top contemporary artists, his works have sold for hefty sums in recent years. His portrait "Benefits Supervisor Sleeping" fetched $33.6 million (23.5 million euros) at a Christie's auction in 2008 in New York, setting a new world record for a living artist. This portrait broke a price record at Christie's in 2008
Freud's lawyer Diana Rawstrong said in a statement Thursday that the artist had "died peacefully (…) at his home in London."
"In company, he was exciting, humble, warm and witty. He lived to paint and painted until the day he died, far removed from the noise of the art world," Freud's New York art dealer, William Acquavella, told the press. Acquavella Galleries said Freud had passed away on Wednesday night after an unspecified illness.
Focus on people
Lucian Freud was born in 1922 in Berlin to Sigmund Freud's youngest son, Ernst. The family fled Germany to Britain when the Nazis came to power in 1933, and Lucian became a British citizen in 1939.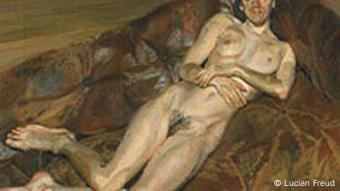 Freud's nudes are known for their vitality
After experimenting with surrealism at the beginning of his career, he dedicated himself to portraits in the 1950s.
"He said everything he did was autobiographical and a self-portrait," said William Feaver, a former critic for the Observer newspaper, who knew Freud well. "He was a witty, impulsive artist, but generous with it."
In 2001, his commissioned portrait of the Queen of England under a heavy crown was dubbed "a travesty" by the Sun newspaper. Nevertheless, he has maintained a solid reputation, with the director of London's Tate art gallery, Nicholas Serota, commenting that Freud "redefined British art."
Author: Kate Bowen (AFP, dpa, Reuters)
Editor: Ben Knight