RBS was named by Amnesty International UK as one of many global financial services companies allegedly using a loophole in British law to continue financing the manufacturers of cluster bombs.
The deadly weapons, which split open before impact, scatter multiple bomblets the size of tennis balls over an area the size of a soccer field. They're designed to kill and maim civilians.
The UK was one of over a hundred signatories to a 2008 UN-backed Convention of Cluster Munitions. Britain along with around 60 other nations ratified the treaty last year, banning the weapons.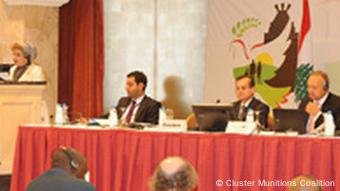 More than sixty countries have signed the convention to curb cluster bombs, but implementation is slow
Laws are vague
Amnesty International claims the international treaty on cluster bombs and the subsequent British law were vague and that RBS took advantage of the ambiguity.
"The bit of the treaty to ban cluster munitions talks about any acts that assist the production, so we argue that finance assists the production," Oliver Sprague, Arms Director at Amnesty International UK, told Deutsche Welle.
"In many of those laws, including the UK, they are unclear on the relationship of the position of finance to companies who make cluster munitions. And they haven't defined finance in a way that is captured under the 'assistance act'. And a lot of banks have been exploiting this grey-area loophole," Sprague added.
Email campaign
The British section of the human rights group called on his members to email RBS' CEO Stephen Hester demanding the bank stop providing financial services to producers of cluster munitions.
Following media reports, RBS, which grew out of the Royal Bank of Scotland to become one of the world's largest global banking groups, initially denied it invested in manufacturers of the weapons.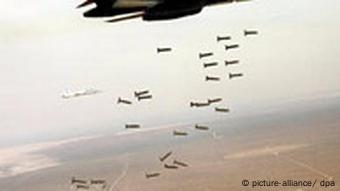 Several countries still produce cluster bombs
A little more than a fortnight later after more than 11,000 people had written demanding a change in policy, the financial services company said in a statement:
"We have identified some defense sector clients whose activities could be considered to be outside the spirit of the Convention."
"As a result, we will be suspending all further services to any client where we cannot be certain that they are in compliance with our policy."
RBS says it will work with government and NGOs to further develop it's policy which could reportedly see American arms manufacturers Alliant Techsystems and Lockheed Martin blacklisted by the lender.
"Obviously the policy shift that RBS has made is extremely welcome," Amnesty UK's Sprague said.
"I think its probably because of a combination of overwhelming public opinion and 11,000 plus of Amnesty members and other campaigners from around the world was writing to them and telling them – and it's own customers as well – telling them that this was unacceptable," Sprague added. His research includes arms control and policing for the campaign group.
Treaty meeting
RBS' U-turn came just days before a major UN conference which is underway in Lebanon, where signatories to the Convention on Cluster Munitions have been giving progress updates on how they're implementing their obligations.
Beirut is also symbolic because of the devastation caused by cluster bombs during the 2006 Lebanon War. Israel reportedly used as many as 4 million bomblets during the conflict, often very close to civilian areas.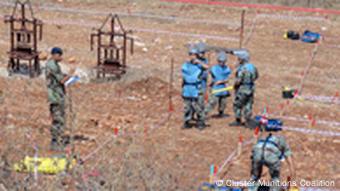 A Lebanese group clearing cluster bombs that were dropped by Israel in 2008.
Afterwards, the Lebanese government formed an army-headed group to supervise the clearance of the munitions. It's reported that around 67 percent of the 55 square kilometer contamination area has now been cleared.
But not before about 400 civilians were either permanently disabled or killed, Lebanese President Michel Suleiman said in a speech at the opening of the meeting on Monday.
Campaigners say the conference is one of the first major international assemblies on disarmament to take place in the Middle East.
"We first of all want to see countries in that region joining this treaty," Thomas Nash from the Cluster Munitions Coalition said.
"Very close to Lebanon, we have Jordan which has been a leader in the movement to ban landmines but they haven't joined the convention banning cluster bombs. We'd like to see Turkey coming on board," Nash added. His group claims that the weapons are still stockpiled by more than 80 states.
The US, China and Russia have yet to sign up to the treaty.
Report: Nik Martin
Editor: Anke Rasper