"These allegations relate to irregularities concerning third party consultants," the SFO said in a statement Sunday, adding that its investigation had been opened in July.
A spokesperson for the British authority said additional details of the probe would not be made public until charges were brought or the investigation is dropped. The investigation could take several years.
The European plane maker said that it was aware of the probe and that it was working with investigators.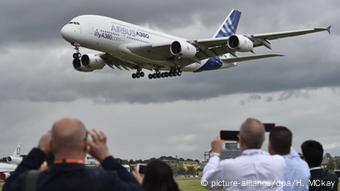 Airbus' A380 is the world's largest passenger plane
"Airbus Group has been informed by the SFO that it has opened a criminal investigation into allegations of fraud, bribery and corruption in the civil aviation business of Airbus Group relating to irregularities concerning third party consultants," it said in a statement.
Airbus complained to authorities
"We ourselves detected this issue and self-disclosed it to the authorities," said spokesman Jeremy Greaves later. "This is as an effort of our enhanced anti-corruption (policy)," he said, adding that Airbus' management was determined to resolve this issue in cooperation with the authorities.
In April, a UK government agency suspended the issue of export credits to Airbus, citing discrepancies in declarations by the plane maker on the use of third-party intermediaries during jet sale negotiations.
The agency, UK Export Finance, said at the time it was referring the discrepancies to the SFO, which would decide whether to launch a criminal investigation.
French and German agencies have also halted export credits to the plane maker, which support deliveries to airlines with limited access to commercial funds.
Airbus Group is Europe's largest aviation and defense company. The firm employs 136,600 people, and in 2015 it reported revenues of 64.5 billion Euros (approximately 71.5 billion dollars).
mm/bw (AFP, dpa, Reuters)