An initial look at the report released by Transparency International Bangladesh (TIB) last week showed a quite alarming rise in the sheer price that Bengalis were paying in bribes.
In the 12 months up to April last year, extortion was costing Bangladesh the equivalent of 13.6 percent of its national budget.
Of the 7,906 households questioned in the National Household Survey, a remarkable 63.7 percent of them reported they had needed to pay bribes for government services.
In fact, the average household paid a total of 6,900 takas (66 euros) annually in payoffs - roughly a tenth of the yearly average salary.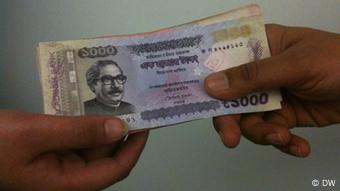 Corruption is difficult to track, but certainly makes its mark
The figure for Bangladesh as a whole stands at 2.1 billion euros - more than double what households had paid in the previous study
Law enforcement among the most corrupt
In the latest TIB survey, corruption was found to be highest in labor migration, with 77 percent of the service seekers falling victim to bribery. Law enforcement agencies, land administration and judicial services in the country have been rated as the next most corrupt sectors, with rates of corruption at 75.8, 59 and 57.1 percent respectively.
Although the estimated total amount of petty bribery paid in the service sectors had risen 2.3-fold in the past two years, the total number of bribery cases in the country had dropped, the survey found. Only the health sector showed no improvement," according to Dr Iftekaruzzaman Iftekaruzzaman, the executive director of TIB.
"It is good news that - with the exception of the health sector - the number of bribes paid has dropped in all other 12 sectors," Iftekaruzzaman told DW.
Belief that bribery still widespread
However, many in Bangladesh said they did not believe bribery had become less widespread.
"The part of the TIB report which speaks of a 2.3-fold rise in amount of bribes paid in 2 years is not an exaggeration. As with some of the past TIB reports, this one is also somewhat controversial," Professor Sarkar Ali Akkas, Dean of the law faculty in Dhaka's Jagannath University, told DW.
"Statistics presented in the TIB report have failed to unveil the actual scenario of corruption," he lamented.
Nearly half of Bangladesh's 150 million people live under the national poverty line
"It is really very difficult to believe that the rate of victimization for corruption has dropped to such an extent as the report claims."
'Nobody believes this'
Bangladesh Supreme Court lawyer and social activist Mahbubul Islam concurs.
"The report says the incidence of bribery has decreased in the past two years. I don't think that any sane and unbiased person in Bangladesh would believe this," Islam told DW.
A great number of average Bangladeshis agree that corruption is rampant. While Iftekaruzzaman said bribery was more widespread in rural areas, people from big cities as well as small villages told DW that paying out bribes was simply part of every-day life.
"To run my clothing business smoothly I have to pay 200 takas to bribe the police every day. Police collect the money from us using local agents known as linemen. If I fail to pay the bribe to the lineman of my area, the next day, they won't let me open my shop," said 37-year-old Abdur Rahim who sells garments on a footpath in Dhaka.
"Up to one-third of my earnings are taken away by the police every day. I don't think I will ever see a day when I am able to run my business without bribing the police," he added.
Giasuddin, a farmer in Khutakhali village in Cox's Bazar district said he had to pay bribes to land registration offices when he sold his land plots.
"If I refused to pay the officials there, the process of selling the land would have not moved forward. So, I chose to pay them sums ranging between 5,000 and 12,000 takas, in each of the four cases in the past two years. If you pay more bribes, your job gets done more smoothly and quickly," Giasuddin told DW.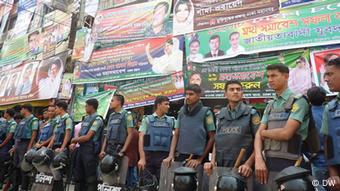 There was a disturbing amount of corruption found among police
"We now consider bribes as part of regular expenses. It rarely occurs to us that it's an illegal payment."
Bad marks for politicians
Following an assessment on the activities of 149 lawmakers in Bangladesh, in November 2012, TIB reported that nearly all of them had been involved in "negative activities" like financial embezzlement, illegal take-overs of state properties and murder. The report angered the government and ruling Awami League delegates, who in turn sought a ban on the TIB.
"In an attempt to soothe the angry members of parliament and the government, TIB has chosen to prepare a report saying that the occurrence of bribery has decreased. Often most bribery is a win-win situation with neither the bribe-giver nor the bribe-taker ever spilling the beans," Islam pointed out.
"For any agency it's impossible to track down such widespread bribery. Even it has honest intentions, TIB cannot fathom the depth of corruption in Bangladesh."
In Transparency International's Corruption Perception Index 2012, which was released last month, Bangladesh was ranked number 144 out of 174 countries.