Everybody loves a story about an improbably young talent breaking through in the big leagues, but by last May things got a bit out of hand. Players in their mid-20s were depicted as being in the twilight of their careers, and so many people were jumping on the youth bandwagon that you had to wonder whether the wheels were going to come off.
Indeed, if you scan through the list of the top performers this season, you'll find a host of players who are of legal age to vote, drive a car and enjoy the odd shot of high-proof hootch. So as a corrective exercise, Deutsche Welle has put together a team of players who are all on the wrong side of 30.
And you know what? Our squad of not-quite-ready-for-the-stud-farm performers would be pretty darn competitive.
The forward line
As strikers get older, they get slower, but goal getting is about more than just speed.
No one's been showing that more regularly than Bremen's 33-year-old Peruvian Claudio Pizarro. He's racked up eight goals and four assists in the first 11 rounds and is basically a one-man reason why Werder are contending for the top five and not fighting relegation.
Last weekend he was at it again, muscling his way past three Mainz defenders to net the equalizer and turn the tide in Bremen's 3-1 win over the southern Germans, who had had the better of the first half hour of play.
Raul pulled on from deep in his bag of tricks against Cologne
And who better to partner with him than Schalke's Raul? The 34-year-old doesn't run more than he has to these days, but has still racked up five goals and three assists.
One of those goals - a standing lob of Cologne's Michael Rensing - is a sure bet to make every end-of-the-season highlight reel. He may no longer quite be up to Real Madrid standards, but German soccer fans are glad "Rock'n'Raul" has decided to give a few encores on these shores.
The midfield
As the position where players log the most kilometers during matches, midfield is the area you'd think would belong exclusively to the kids. But a number of veterans are getting along just fine at the center of the action, without having to drag tanks of oxygen along behind them.
The oldie with perhaps the liveliest spring in his step is Hanover's Sergio Pinto. Ask Bayern Munich. The 31-year-old absolutely locked down his part of the field as Hanover upset the Bavarians in round 10. He also displayed a veteran's gamesmanship, stirring up a fracas that eventually led to Munich having a man sent off.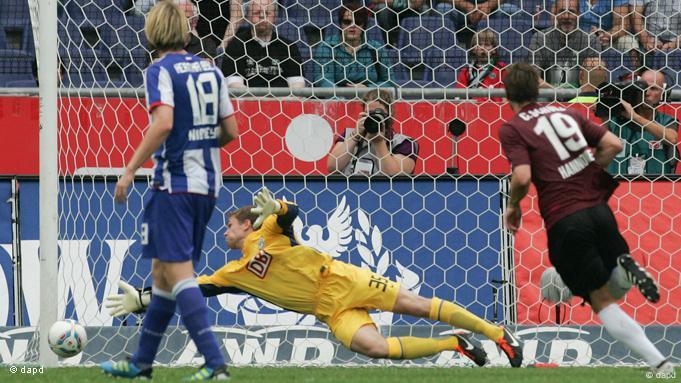 Pinto is also a specialist for low, hard free-kicks
Pinto was neutralized last weekend by Mönchengladbach's Juan Arango. The 31-year-old has finally learned what it takes to play in the Bundesliga and contributed an assist in the Foals' 2-1 victory.
Add to them a couple of names we didn't think we'd be mentioning anymore. After being completely written off as last year's news, 35-year-old Michael Ballack has returned to be surprisingly productive for Leverkusen. His lone goal against Freiburg on Friday was more evidence of that.
Then there's 31-year-old Sebastian Kehl. Injured for what seemed like the better part of decade, the lanky former German national has worked his way back into Dortmund's starting line-up at the expense of Ilkay Gündogan, who's 10 years his junior. If Jürgen Klopp is turning to a veteran, you know he has to be good.
The back line
In modern football, defenders have to be fleet enough of foot to track down forwards and disrupt counter-attacks. That's the thinking, anyway. But experience and anticipation can make up for a lost step or two.
Case in point is Hertha Berlin's Levan Kobiashvili. The 34-year-old Georgian usually keeps his distance from opponents, especially early on in matches, but he's displayed fine endurance and has usually gotten the better of his man by the end of games. He's also Hertha's designated penalty taker and converted in Berlin's upset of Wolfsburg on Saturday.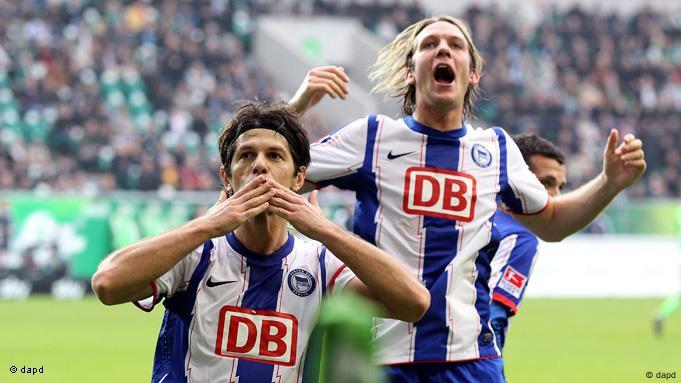 Kobiashvili, left, has been a mainstay in Hertha's resurgence
If Kobi is slow, then his teammate Andre Mijatovic is positively leaden. Nonetheless, the 31-year-old Coatian's positional play has been good enough for him to anchor a better-than-average Bundesliga defense.
At another level entirely is Bayern Munich's Daniel van Buyten. It's impossible to count the number of times the 31-year-old Belgian has been dismissed as the Bavarians' sole remaining weak spot, yet when he comes in, be it in the Bundesliga or the Champions League, good things usually happen for Bayern.
Another man who's been rock-solid at the back is Bremen's Clemens Fritz. With his boyish good looks, it's easy to forget the former German national is almost 31. Nonetheless he's played all but around 25 minutes of Werder's league matches.
Finally, in goal we'll take Augsburg's Simon Jentzsch. It's been a rough ride for the newly promoted Southern Germans in the first division, and Augsburg can thank their 35-year-old keeper that they're still within shouting distance of the safety zone. And Jentzsch's performance in his side's round 10 1-1 draw against Bremen, in which he played with a broken finger was nothing short of heroic.
So there you have it. Eleven players who are showing that there's no need to book your place in the retirement home just because you've hit the big 3-0. These guys may be studs, but they're proving they still belong on the pitch and not on the farm.
Author: Jefferson Chase
Editor: Rob Mudge