Despite a heady mix of constant denials and assurances, anyone reading between the lines of the almost daily announcements coming out of Werder Bremen about the future of star midfielder Diego would surely come to the conclusion that the talented Brazilian will be playing his soccer away from Germany next season.
Just like the fabled "backing of the board", the committed support of the chairman for an embattled manager, which inevitably leads to a knife between the coach's shoulder blades, the continuous assertion that a star is settled and going nowhere really means that he will only be a player at the club until a time when his imminent transfer will do the least damage to the team's chances and morale.
In Bremen's case, with the Bundesliga title slipping away from them, European competition over for another season and no hope of domestic cup silverware, Diego's departure at this stage would have little effect on an already disappointing campaign and could therefore mean the star midfielder is playing out his Bremen swansong.
Bremen chairman will sell star "over his dead body"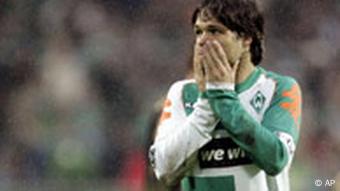 Diego has been growing increasingly frustrated
"If somebody wants to buy Diego, he must murder me first. Diego will leave Werder only over my dead body," Werder Bremen chairman Juergen Born insisted earlier this week. Sports reporters who have been monitoring the 23-year-old Brazilian's season are believed to have Born's obituary ready for publication in the summer.
Diego may not be going anywhere just yet but Bremen's failure to mount a serious challenge at home and abroad for the second season running plus the constant attention from Europe's biggest clubs must surely be playing a part in the player's current frustration and the belief among observers that his Werder career is coming to an end.
A heated exchange between the Brazilian midfielder and former Germany Under-21 striker Aaron Hunt which saw the pair come to blows in the dressing room after the UEFA Cup defeat against Glasgow Rangers earlier this month was the latest sign that Diego has had enough of carrying the team on his own. In February, he was given a three-match ban for lashing out at an Eintracht Frankfurt defender in an uncharacteristic assault.
Diego's father expresses his son's desire for Madrid move
The general consensus now is that Diego's time in the shop window is coming to an end and that he is preparing for the next step up in his career, a belief his ambitious father has made very clear in recent weeks. "Diego would definitely like to play for Real Madrid," Djair da Cunha, who also acts as his son's agent, told the Spanish sports daily newspaper Marca.
Juergen Born angrily stomped on that piece of mischievous speculation by saying: "No one has rang me from Madrid -- neither regarding Diego nor any other Werder players. Diego is not for sale. He has a contract with us until 2011 and is the most important player in our team."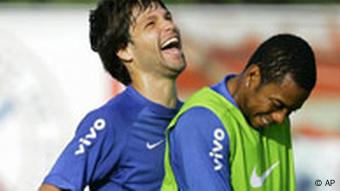 Could the friends and Brazil teammates be reunited at Real?
Diego says he has spoken to international team-mate Robinho about Real Madrid, but has had no direct contact with the club.
What exactly has been said between the friends and former team mates remains unclear but whoever has the power to bring Diego to Madrid will surely know that the pair formed a dynamic and fresh-faced partnership at Santos, helping the team win the Brazilian title in 2002 and 2004 and reach the Copa Libertadores final in 2003.
"If Real Madrid is interested, it must say so," said Djair da Cunha. "But I think that would be better at the end of the season. Now is not the time."
That may be, but the time for Diego and Werder Bremen to part ways must surely come soon.