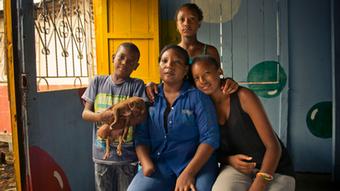 Katya Cabezas Quintero and her family. She survived her boyfriend's attempt to kill her with a machete but lost her right hand.
The filmmaker Paula Rodriguez Sickert traveled through the Andean countries of Bolivia, Ecuador and Peru and tells the stories of three women who were attacked or killed because they wanted to live their lives their own way. Two of the women were brutally murdered. One of those women survived – but only just. Today she champions other victims of violent sexist attacks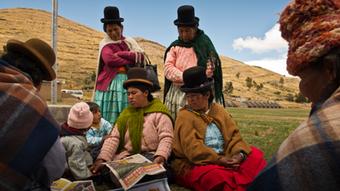 Bolivian councilor Juana Quispe came from Ancoraimes, a village situated at an altitude of 3800 meters in the Andes, near Lake Titicaca.
43-year-old Juana Quispe was a Bolivian city councilor of indigenous descent. She was killed because she rejected traditional gender roles in her community and held public office. Katya Cabezas Quintero from Ecuador was attacked with a machete by her boyfriend. She survived, but lost her hand. In Peru, 19-year-old Ruth Sayas was killed by her boyfriend after she revealed on a TV reality show that she had traded sex for money.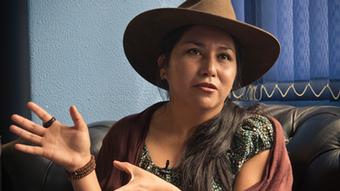 Marianela Paco Durán, a member of the Bolivian parliament, is pushing for social change and fighting for the rights of women in a macho society.
The film documents the fate of these three women and their relatives. It also looks at how legal experts are fighting against a judicial system that all too often fails to treat the murder of a woman as a serious crime, from the perspective of both victims and perpetrators. The case of a young man who murdered his girlfriend reveals the dangerous extent of the role played by social stereotypes and the media, which tends to reinforce them. Filmmaker Paula Rodriguez Sickert sets out to raise awareness of femicide and also to demonstrate what various courageous people are doing to tackle it.

Broadcasting Hours:

DW

SAT 13.12.2014 – 22:15 UTC
SUN 14.12.2014 – 06:15 UTC
SUN 14.12.2014 – 13:15 UTC
SUN 14.12.2014 – 17:15 UTC
MON 15.12.2014 – 04:15 UTC
MON 15.12.2014 – 10:15 UTC
TUE 16.12.2014 – 16:15 UTC
TUE 16.12.2014 – 20:15 UTC
TUE 16.12.2014 – 23:15 UTC
WED 17.12.2014 – 02:15 UTC
WED 17.12.2014 – 05:15 UTC
WED 17.12.2014 – 08:15 UTC
WED 17.12.2014 – 12:15 UTC

Cape Town UTC +2 | Delhi UTC +5,5 | Hong Kong UTC +8
San Francisco UTC -8 | Edmonton UTC -7 | New York UTC -5

DW (Europe)

SUN 14.12.2014 – 04:15 UTC
SUN 14.12.2014 – 17:15 UTC
MON 15.12.2014 – 06:15 UTC
MON 15.12.2014 – 13:15 UTC
TUE 30.12.2014 – 16:15 UTC
TUE 30.12.2014 – 23:15 UTC
WED 31.12.2014 – 02:15 UTC
WED 31.12.2014 – 05:15 UTC
WED 31.12.2014 – 12:15 UTC

London UTC +0 | Berlin UTC +1 | Moscow UTC +3

DW (Arabia)

SUN 14.12.2014 – 04:15 UTC
TUE 16.12.2014 – 23:15 UTC
WED 17.12.2014 – 02:15 UTC
WED 17.12.2014 – 05:15 UTC

Tunis UTC +1 | Cairo UTC + 2 | Dubai UTC +4

DW (Amerika)

SUN 14.12.2014 – 06:15 UTC
WED 17.12.2014 – 08:15 UTC

Vancouver UTC -8 | New York UTC -5 | Sao Paulo UTC -2